THE HUMANS
Though the human population is dwindling, there are still plenty of colorful characters wandering around. Here are the notable ones.
G O R D O N F R O H M A N
A new arrival to City 17, Gordon finds the city and its new management much to his liking, unlike the rest of the populace, who don't appreciate the interdimensional aliens who rule with an iron fist and kill without a second thought. Frohman isn't the sharpest knife in the drawer, the brightest bulb in the box, or the most observant observer in the observatory, but he's upbeat as hell and loves watching TV.

And he's single, ladies!

D R . W A L L A C E B R E E N
Former administrator of the Black Mesa Research Facility, where the dimensional breach that led to the current state of the planet began, and now the administrator of City 17, liaison to the alien Combine, and pacifier of the masses. From his penthouse office in the Citadel (an imposing black tower in the center of the city) he broadcasts his propaganda 24 hours a day in HDTV (where available).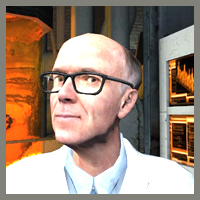 D R . I S A A C K L E I N E R
Absent-minded, professorial. Has a pet headcrab (de-beaked) and a strong interest in garage teleportation technology. Operates in a secret lab in City 17 that somehow escapes Combine notice.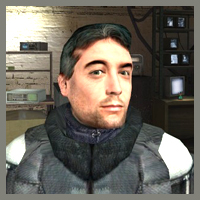 B A R N E Y C A L H O U N
Former Security Guard and comic relief at Black Mesa, now working to overthrow the Combine from the inside. Often offers to buy beer for others; rarely delivers, using the invasion of murderous aliens as a poor excuse.

A L Y X V A N C E
Daughter of Eli Vance, professional tomboy, mechanic, and commando. She was just a child during the Black Mesa incident, but has grown considerably. Tough girl, can withstand a lot of point blank shots, perhaps due to her Kevlar hoodie (Old Navy Spring Apocalypse Collection).

D R . E L I V A N C E
Basically the same as Dr. Kleiner, only minus a leg and a headcrab. Works in his lab at Black Mesa East, a hidden facility outside City 17. Has a daughter, Alyx (see above) and a beard (see left) and a soothing voice (see below).

He has a soothing voice.

D R . J U D I T H M O S S M A N
Mossman is a bit of a groupie, and will align herself with whoever builds the biggest, most powerful teleporter. Assists Dr. Vance while wearing tight sweaters for attention.

F A T H E R G R I G O R I
He's a monk with an itchy trigger finger and an odd sense of humor. Resides in Ravenholm, a charming little suburb with good schools. Sure, there's a slight zombie problem, but they've called the Orkin man.

C I T I Z E N S
Hopeless, aimless, powerless, until someone comes along and sparks a rebellion. Some meander around City 17, drugged and melancholy, others hide in the outskirts hoping to be rescued. Some slight codependency issues during combat.


THE COMBINE FORCES
Meet the new boss, fairly different from the old boss. The Combine (pronounced COM-bine, like the machine that harvests grain) rule the planet with an iron fist, plus lots of devastating weapons.
C O M B I N E M E T R O C O P
These gas-masked thugs police City 17 and patrol the canals surrounding the city. They have poor aim and employ questionable tactics, such as descending on ropes in front of speeding airboats. Still, what they lack in competence, they make up for in personality.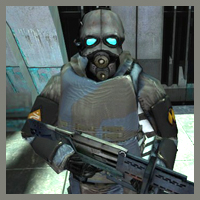 C O M B I N E S O L D I E R
Formerly human, these Combine commandos have been genetically altered (or combined) with alien DNA and circuitry, making them mind-controlled menaces. Heavily armed and armored, they work in squads and patrol the countryside, only being called into the city when the occasional MIT graduate starts a rebellion.

C O M B I N E E L I T E
Billed as the top-of-the-line in Combine soldiering, the Elite are truthfully more middle-management than anything else. Their poorly thought-out giant single eye makes for challenges in depth perception, and their bright white outfits make them easy targets during urban combat.

S C A N N E R
These flying robots hover and bob around urban areas, taking pictures of citizens to track their movements and whereabouts. One could probably make jokes about this behavior, if one were so inclined.

M A N H A C K
Used by the Combine to track down and eviscerate truant citizens, these flying cuisinarts hack and slash with spinning blades. They slice, they dice, they cut through wooden boxes, metal fences, and tin cans -- and all for only $19.95! But wait, there's more! More manhacks, that is, because they usually travel in packs, or if you're really lucky, swarms.

R O L L E R M I N E S
These electrified little pains in the ass lie in wait along roadways and then pop up and roll toward their targets. Their powerful electrical charges wreak havoc with any vehicles they attach themselves to, and they also deliver shocks to any opponents on foot. Luckily, they're not waterproof. Once deactivated, they make suitable toys for any gigantic hulking robotic dogs you may own.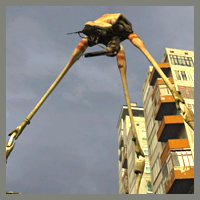 S T R I D E R
Three legs, two guns, one singular sensation, these fifty-foot mechanical monstrosities patrol the city streets, impervious to everything but rocket-propelled grenades. Their sharp footsies can impale careless citizens, so it's best not to get underfoot.


THE CREATURES
But that's not all! Monstrous aliens that immigrated from the Xen borderworld are still hanging around, despite the lack of green cards.
V O R T I G A U N T
The Vortigaunts were forced to kill humans during the initial invasion of Black Mesa, but now are apparently friendly and wise, as indicated by their Yoda-like manner of speech. They also walk around naked. Perverts.

H E A D C R A B S
Scrappy little blobs of flesh with teeth and claws. Hobbies include latching onto human heads and turning their hosts into shambling zombies. They come in three flavors: Original, Fast, and Poison.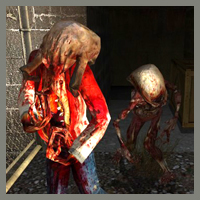 Z O M B I E
Some are slow and screamy, some are fast and screamy, some are slow and moany. Standard models come in white labcoats for inexplicable reasons. All are highly flammable, so close cover before striking.

B A R N A C L E
The most predictable of the alien creatures, the barnacle doesn't claw, slash, jump, scuttle, screech, or dispense puzzling non-sequiturs. It doesn't even move. It just lurks above, clinging to ceilings, with a long, sticky tongue extended to the ground, waiting for someone to blunder into it. Someone like you. Its tongue then retracts, pulling you up to its mouth, while you utter a curse and reach for your shotgun, embarrassed to have fallen, yet again, into the barnacle's easily avoided trap.

A N T L I O N
They burrow like moles, they fly like flies, they scuttle like… well, both moles and flies. They probably should have been called Moleflies, but that's really not very scary.

Can be tamed with bugbait, a spherical gland harvested from the larger Antlion Guard. They enjoy carrion and long walks under the beach.

A N T L I O N G U A R D
These antlion queens are larger, more powerful, and more dangerous than the standard antlion. They don't fly, but instead rush their enemies and butt them with their enormous armored heads. It takes a serious commitment to actually kill an Antlion Guard, but once dead, a special antlion-taming gland can be harvested from their bodies in a surgical process best described by experts as "totally gross".


AND THE REST
Sometimes, the supporting cast overshadows the star. That may be the case with the following hard-to-define characters.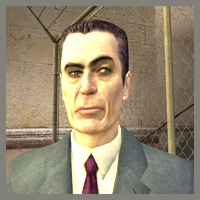 G - M A N
His origin and motivation are clouded in mystery, but the G-Man always seems to be around, watching the proceedings and then vanishing from sight when approached. Is he an alien from another dimension? An agent of the government? Or just a smartly dressed peeping tom?

D O G
Alyx Vance's robotic pet started off as a small metal companion, but she has added to him over the years, and he is now a hulking mechanical mass of mayhem, able to hurl cars, pound soldiers flat, and turn walls into doorways. You don't want to get between him and a fire hydrant. He also fetches and plays catch.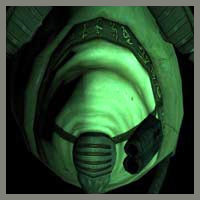 C O M B I N E A D V I S O R
Virtually nothing is known about this giant alien slug, but it may in fact be the true face of the original Combine race. The Advisor does not visit earth in person, but occasionally gives Dr. Breen his instructions via video screen, though he tends to call on nights and weekends to avoid using all his "anytime" minutes.

G O R D O N F R E E M A N
Some jerk scientist who everyone thinks is sooooo great. Probably caused the Black Mesa incident, supposedly good with all manner of weapons despite no formal training, and inspires loyalty in everyone despite never saying a single word. As if.

Freeman hasn't arrived at City 17 yet, but word is, he's on his way.


LOCATIONS, LOCATIONS, LOCATIONS
When visiting post-apocalyptic Earth, don't forget to check out these popular spots!
C I T Y 1 7
Once a thriving Eastern European metropolis, City 17 is now a decaying husk, an "urban center" populated with the hopeless remnants of the human race. In the center of the city, the Citadel, a massive black tower, points into the clouds, nerve center of the Combine forces. City 17 is surrounded by winding canals and waterways, patrolled by Civil Protection, the Combine's urban police force. Some human rebels manage to remain hidden underground, though the sewers are filled with headcrabs and zombies.

Dr. Isaac Kleiner operates a secret lab in City 17, where he continues his work on teleportation in hopes of finding a way to spirit the human citizens to safety.

B L A C K M E S A E A S T
Located well outside City 17, Dr. Eli Vance and Dr. Judith Mossman run this hidden scientific facility, conducting teleportation experiments along the line of Dr. Kleiner's. Many humans who have made it safely through the canals live and work here, as well as a few friendly Vortigaunts. It lies very close to the town of Ravenholm, where many human survivors have escaped to in hopes of avoiding Combine detection.

H I G H W A Y 1 7
This long, winding coastal road is fraught with danger. Travelers must contend with the beach-dwelling antlions, as well as frequent Combine roadblocks and outposts. The highway is in disrepair and is choked with rusting vehicles, and features a massive, crumbling bridge that is under the control of the Combine Overwatch.

N O V A P R O S P E K T
This former prison is now a Combine stronghold, where prisoners are held in stasis, tortured, and transformed into alien hybrid soldiers or gaunt, zombie-like slaves called Stalkers. It is surrounded by Combine guard towers and "thumpers", mechanical devices constructed to keep the deadly antlions at bay.