Like everyone else in prison, Nondrick is innocent.
I'd been harvesting mushrooms inside Castle Cheydinhal, under full view of the guards, which indicated such activity was legal. It set a precedent, that did. I spotted some flowers on the throne, and figured, hey, free mushrooms, free flowers, right? So, I helped myself. Turns out, these flowers were a token from the Count to his late wife, who died, ahem, falling down the stairs.
This is a clear case of entrapment. One plant can't be okay to steal and another be verbotten. It just ain't right.

At any rate, when you're arrested in Oblivion, you have three options. Resist arrest, which means you fight or flee the guards (usually a combination of both), pay a fine, or serve jail time. In this case, the fine is one gold coin, something I can easily manage.
Problem is, after agreeing to pay the fine, the game crashes to desktop. I reload, and, being the honest sort, pick the same mushooms I'd picked and steal the same flowers I stole. Once more, I'm arrested, agree to pay the fine, and am treated to another crash. Swell.
I try this four or five more times, and each time I try to pay the fine, the game crashes. Looks like that's just not going to work. I choose to serve time instead, and nary a crash — I'm sent straight to jail. Ah, well, that's the legal system for you. My crime "spree", as it was called, has landed me in the clink.
I'm stripped off all my belongings, dressed in tattered rags, and sent to a cell. This is a low-point in Nondrick's career, to be sure. The lowest. Jailed, humiliated, no possessions, body festering with canine diseases.
I've got one lockpick, apparently smuggled in an unnamed Nondrick-hole, but if I break out I'll probably just get in more trouble. I'll just serve my time. You know what they say, you only do two days: the day you come in and the day you get out. West siiiiiiiide. Of course, as it turns out, they only hold me a single day anyway.
Serving time isn't good for you, though. With no rehabilitation program, spending time in a cell will lower one or some of your attributes. Luckily, I only lose one point in my hand-to-hand skill, a skill I'm fairly sure I've never once used.
The Count himself has arrived to watch me be released from prison. Despite me stealing his flowers, he's kind enough to introduce himself.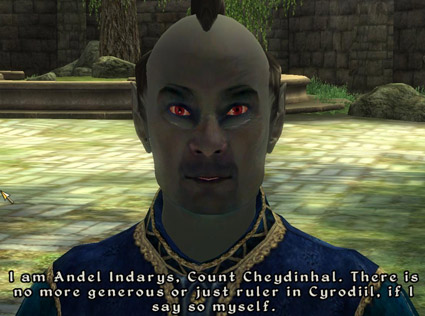 Sure, throwing a guy in jail for picking up some dead posies, that seems generous and just. I joke with him a bit about mushrooms, throw in some boasts about how I once stole some fabric from a hotel, admire his mohawk, and threaten his life until he trusts me enough to offer me a house for sale. For $15,000. Pretty pricey. I'm hovering around the 1,000 septim mark, and have been since I got here. This just hasn't been a profitable trip for me so far. I thought, by now, I'd be rolling in loot, but I haven't been turning much of a profit since I left Imperial City.
I think I'm done with Cheydinhal. Time to move on. I've only got two more cities to visit, Leyawin and Bravil, and I think I can hit them both up before returning to Imperial City.
I head back to the hotel, selling my junk before I turn in for the night. Then, I'm roused out of my slumber by a terrifying visage.
It honestly scares the bejesus out of me. I'm sitting there, watching the hours tick by on screen, and am suddenly treated to a jarring crash-zoom of that lady's scary mug. She forces a note in my pants and leaves.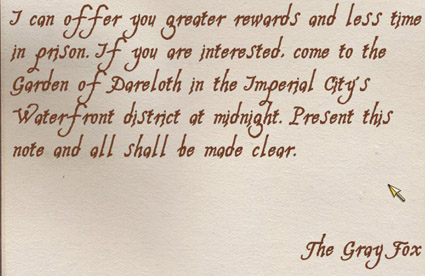 Apparently, the Thieves Guild has spotted my talent for stealing flowers while in full view of the most powerful man in town, and want to recruit me. Sure, who wouldn't? I've stolen one worthless item and gotten caught doing it. I'm clearly a star. What is the Gray Fox going to say to me? "I've seen your moves, kid. The way you walked right up to the throne and grabbed those worthless flowers and went to jail for it? You're good. You're real good. With my help, you could be the best."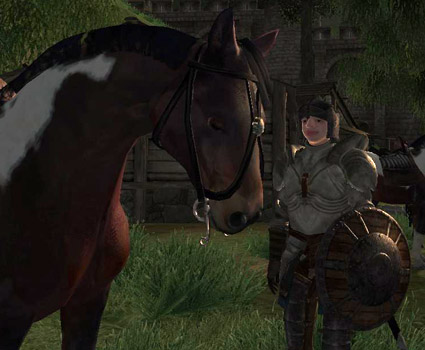 I get a couple more hours of rest, and then find Beaker out in the stable. Come on, dude, time to blow this dump. I figure we'll make straight for Leyawin, following the river along until we reach the road, then hit Bravil on the way back up to north Imperial City. That's a long-ass ride, though, so hopefully we'll find a couple stops along the way.
As we gallop along, I'm treated to a nice view of Imperial City and some ruins, get chased by a couple wolves, stop to gather a few ingredients here and there (at one point I actually lost Beaker for about five minutes after leaving him to go pick up some plants). Eventually, I reach the river and follow it out to the road.
The road sucks. I'm chased by imps, wolves, and bandits every hundred yards or so. Luckily, running from a wolf leads me to a bandit, and they fight with each other. Running from another bandit leads me to an imp, and they fight. In each case, I wait until one is dead and the other wounded before cleaning up.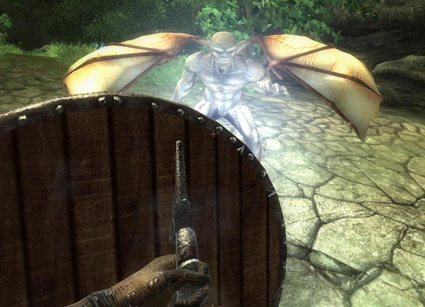 So, I've got a couple suits of armor, some weapons, and a few portions of Imp Gall. I explore a bit around the road, gathering herbs, but still have found nothing to cure my barkin' pnemonia or doggie woggie flu.
As the sun sets, another Khajiit highwayman accosts me as I try to cross a bridge. The whole "Your money or your life" deal again. Just for kicks, I give him 100 gold, then jump off my horse and stab him in the back.
We duke it out. He lands a blow with his axe and I turn green. He's cleverly draining my fatigue with poison. I retaliate by cleverly draining his health by killing him.
I take his stuff, retrieve my gold, and as I look up from his corpse, I spot something in the fading light.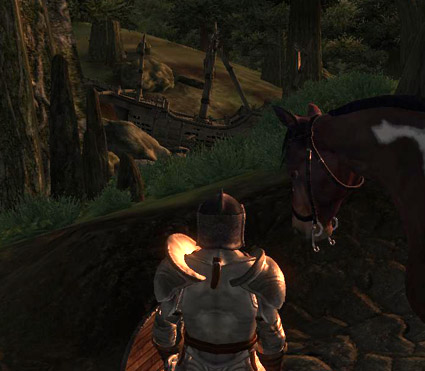 Is that a boat?
It is indeed, a shipwreck in the river. Cool. Ships have beds, right? This would be a great spot to hole up in for a day or two, if so. I find a huge hole bashed in the side of the ship, and step inside. Granted, the last time I slept on a ship I got into all sorts of trouble, but what's the chance of that happening twice?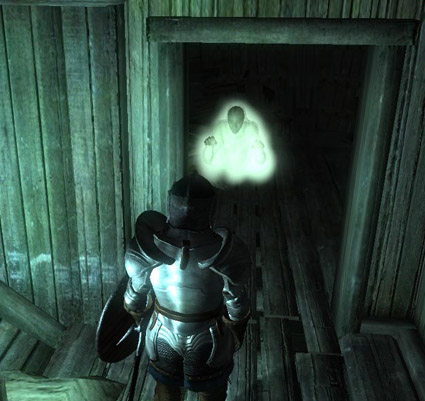 Guh-guh-guh-guh-guh… ghoooooooost!