So! Before we were rudely interrupted by the passage of sixteen months, where the heck were we?
Oh, right. Nondrick. That guy. He had been winding up his tour of Cyrodiil, headed for Bravil, suffering from a series of wolf-born diseases, and having no luck finding the ingredients needed to cure them. After entertaining dark thoughts of the theft of a Shepard's Pie, he stuck to his vaguely defined principles and was rewarded in true karmic fashion, finding a wild herb that allowed him to brew a potion that would cure his wolf-cooties.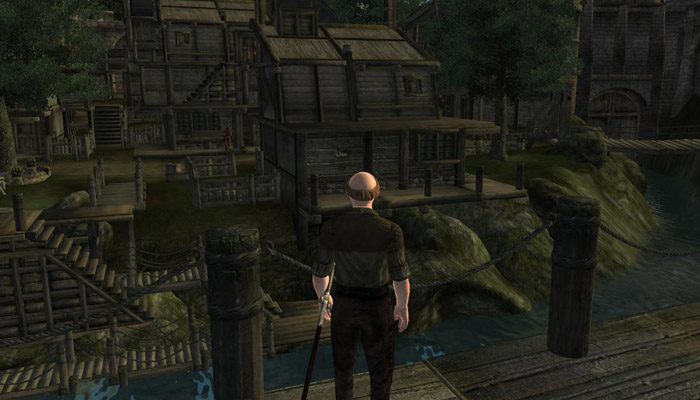 That brings us roughly to… now! Bravil! An ugly, dirt-poor city on the Nibeny Bay. Having spent the night in the affordable and aptly named Lonely Suitor Lodge, he decides to spend the day doing what he always does: mixing and selling potions, walking around slowly, and talking to everyone about anything that won't lead to quests and adventure.
That last part isn't exactly easy here in Bravil. While their main import is poverty and the color brown, their leading export appears to be intrigue. Almost everyone in town wants to talk to me about something called The Forlorn Watchman, which I'm guessing isn't just a city guard who can't find a date.
In the Mage's Guild, an Argonian named Kud-Ei wants me to help her find her missing friend, Henantier, insisting I am the only one she can trust with the task despite the fact that I just walked in the door ten seconds ago. The other mages are passive-aggressively chatting about someone named Aleron Loch, who is also missing, hoping I'll overhear and lend my questionable investigative skills to the case. Don't these people ever go to the cops when someone disappears? There's also more talk about The Forlorn Watchman and a few chat to me about Necromancers. The only thing positive I hear is someone recommending that I steer clear of mudcrabs. Can do!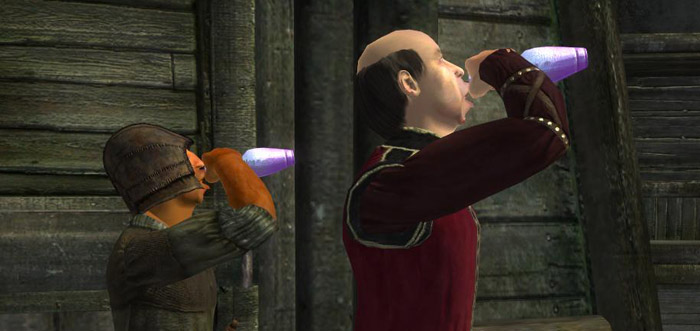 Wandering around outside, I start to see why people don't go to the cops: many of the citizens are drug addicts, and probably don't want the narcos snooping around in their business. A door advertises itself as a "Skooma Den", and two dudes are feverishly chugging down the drug right outside in broad daylight. I sort of wouldn't mind Nondrick getting his hands on some Skooma (he's no square), but the door to the den is locked and these two won't share. Guess I'll have to stick to wine.
Popping into the Fighter's Guild for a moment, I watch two members hacking away at each other in a friendly sparring session, taking a break only long enough to tell me that The Forlorn Watchman is a g-g-g-g-ghost! So, ghosts, missing persons, necromancers, drug addicts… I figure real estate can't be too pricey around here. Maybe I should inquire about a house.
I stroll over to the castle to talk to the only real estate agent the city has: the count. Naturally, he doesn't want to sell a house to someone who he just met: the guy who oversees a town full of junkies and ghosts doesn't trust just anyone with his valuable real estate. Luckily, I'm pretty good at winning people over, and after quickly divining that he loves a braggart and hates being admired, I convince him I'm worth selling to.
After poking my nose down in the jail, just to see if there are any interesting prisoners (there aren't), I get lost in the castle for a bit, somehow winding up in the servant's quarters and then the dining hall. When my slow pace finally leads me back outside, it's dark, so I head back for the night. I check out the other inn, which is a little expensive, but chock full of interesting looking company.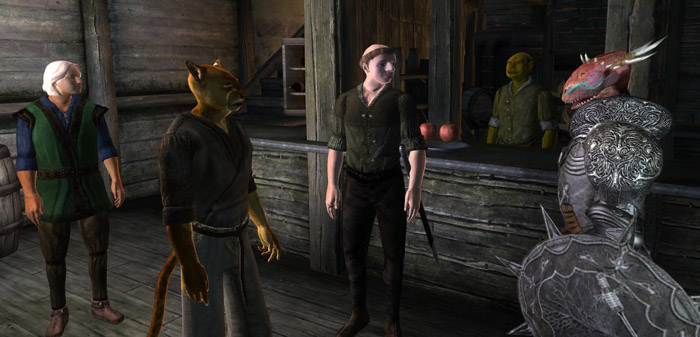 I've got a couple things planned for the next few days. First, someone mentioned there was a Speechcraft trainer in town, so I'd like to track him down and see if he can give me a boost to my already impressive conversational skills. Second, after charming the innkeeper with my aforementioned silver tongue, Nondrick's odometer turned over and I'm due to level up while I sleep tonight. Wow. I only started this blog in 2007 and Nondrick is already on the brink of Level Six! Amazing.
Finally, the Count told me the house for sale only cost 4,000 septims, the cheapest residence I've found besides my hovel, and I've almost got enough coin to afford that. Of course, the town is full of spooks and scumbags, and I'm entirely not sure I want to live here. To make my decision, I'll need to explore the area nearby and see if the landscape is littered with enough plants for an ambitious, level-climbing alchemist like Nondrick to survive on.