Before I can become an alchemist, I have something to attend to.
I head back to Colovian Traders, and sell my fancy duds back to Gunder. I let my brief success picking flowers go to my head. I'm not some wealthy fancy-pants merchant. I'm a simple dork with a bag of rapidly dwindling gold. I buy a simple brown shirt, some pants, and cowhide shoes to wear around town.
There. Simple, humble, and ready to start my career. I wander around the Mage's Guild, hoping to buy a few things for my new start-up, but no one is selling anything other than spells. I eventually find my way to a shop called All Things Alchemical, run by the necrophiliac elf I met the other morning. I spend most of the rest of my money on a Novice Albemic and a Novice Calcinator, giving me two more tools with which to practice my new craft. It also leaves me with a mere 29 gold to my name. But, you've gotta spend septims to make septims.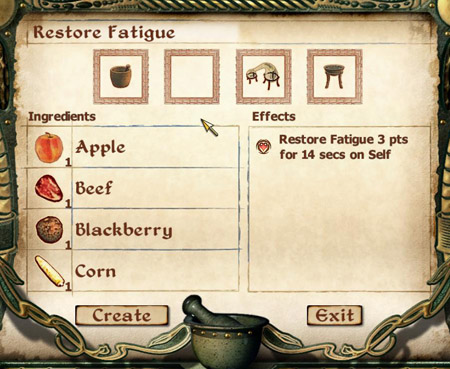 I check out the rest of her mechandise, buying an apple, some beef, and a blackberry, all of which share the "Restore Fatigue" property. They each also cost 2 gold, so I'm down to 23. I already have an ear of corn, which I think I bought at the inn for lunch. I mix them all together and voila! I have a potion! That probably tastes horrible! And it's worth 3gp. Okay, that was a loss.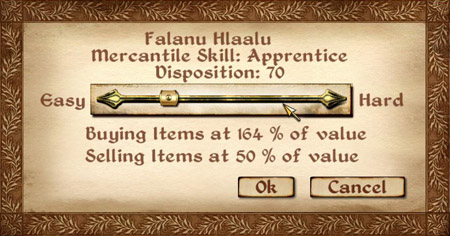 I try again, with a couple of items I picked yesterday and one purchase from the shop, and mix up two "Restore Intelligence" potions. These are worth 6 gold each. I also decide to start haggling over the prices, and manage to sell each potion for 4 gold. I'm up to 30 again. I buy some Spiddal Stick to match some Nightshade I picked yesterday, which gives me a Damage Health potion, which I sell back at just a slight loss. Down to 29 again.
Well, buying, mixing, and selling doesn't seem to pay off just yet, and gathering, buying ingredients to match the properties of my gathering, then mixing only works sometimes. I have an idea, though, of how this all might come together, but to put it into action I'm gonna need some cash. Time to hit the fields again.
I armor up and head northwest, finding flax, water hyacinth, peony, sacred lotus, alkanet, and even a couple pearls in some clams in a pond. Plus, I come across a weird stone that wants to give me something.
Sure. Why not.
Magicka bursts forward from the stone, enveloping me. I feel tendrils of unnatural energy claw at my flesh, snake into my veins, and clutch at my heart. I open my mouth to scream and the ancient eldritch power pours into my lungs like blood-red smoke and clouds my eyes with visions of a barren, blasted land ruled by a scowling Daedra Lord perched on a massive throne of charred, splintered bone. When the darkness passes, I find myself clad in brutal black and crimson armor, holding a massive spike of a sword in my two shaking hands.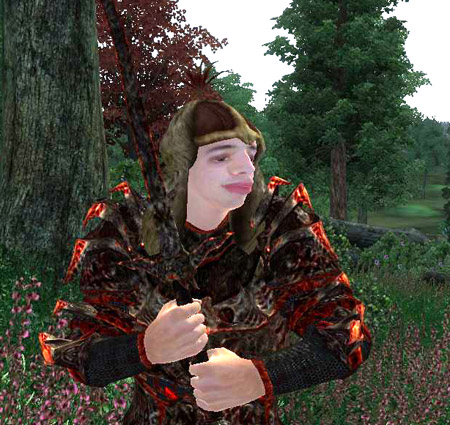 I continue picking flowers. Yeah, I know I've got magical Daedric armor on and am carrying a deadly four-foot double-edged Oblivion-forged blade, but that's no reason to change my plans for the day.
Not a bad day of collecting, either. It's dark and raining as I head back into the city gates. (The magical armor and sword have since poofed back out of existence.) I mix up some potions from my collection, get a cheap room at the Two Sisters, and get some sleep.
In the morning, I'm back to the alchemist's. I sell the potions I've made, and all my spare ingredients, and use the profits to buy her out of apples, grapes, onions, blackberries — everything cheap that shares the very common Restore Fatigue property. I mix up a ton of two-ingredient potions, and sell them to her. My alchemy skill goes up several times as a result, and I buy a Novice Retort, the fourth and final instrument of the alchemist.
I think I'm on the right track now. It's not about profit so much at this point, it's about becoming a more skilled alchemist. The more skill I have, the better my potions will be, and the more I'll be able to sell them for. It's not time to make money, it's time to grind. Quantity, not quality — only two ingredients per potion instead of three or four.
Plus, all the buying of cheap ingredients and selling of mass amounts of potions will increase my mercantile skills, and boosting merchants' disposition through conversation will increase my speechcraft skills. I'll become a better alchemist and salesman, and more likable guy, all at once.
I head over to Colovian Traders, and do the same with Gunder, buying everything cheap he has, mixing up as many weak potions as I can, and selling them back to him.
I dash over to the West Weald Inn, buying them out of carrots, cheese, ham, pears, rice, and everything else they've got that I can afford. I slap together a huge amount what must be some truly awful tasting potions, and finally, for real this time, voila!
I'm still pretty broke at this point (54 gp) but I'm an apprentice alchemist! Now each ingredient has two properties I can use, which will make it easier to mix and match ingredients, and it'll unlock more potent drinks, which will in turn sell for more money.
There are still a lot of questions in Nondrick's life, but finally one has been answered. I've got a real, workable plan. Major in Alchemy, minor in Sales. This is how I shall make my fortune.