As I stand outside the gates of Bruma in the early morning light, I let out a big, gusty sigh. Not Nondrick, but me, Chris, the guy behind the keyboard.
Here's the thing — I'm really not looking forward to the long boring walk back down that road. It's slow, it's tedious, the few ingredients I found on the way up probably won't have regenerated yet, and I probably won't even get attacked because I killed all the wolves on the way up. It took three game-days to get up here, it'll probably take close to that to get back. That translates to, I dunno, an half-hour or so real-time? Forty-five minutes? An hour? I don't know, but I do know I just don't feel like doing it.
I set a rule when I started — no fast-traveling. I'm not totally against breaking my own rules, and this seems like a fair cheat to skip what is certain to be a boring trip, but I'm afraid if I let myself do it once I'll do it again later, and then again, and then it'll be a regular thing.
Another option is to run instead of walk, but that's sort of another rule of mine. You really don't see NPCs sprinting around unless they're being pursued or in pursuit, and it's another habit I don't want to slip into.
Of course, there's a third option, and I'm standing right in front of it.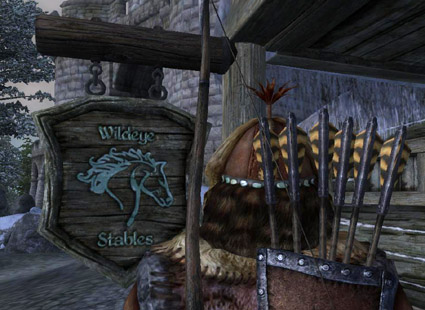 Could I buy Nondrick a horse? It's breaking one rule — NPCs, except for Imperial Legion Soldiers, don't have horses. Then again, the stable owner has horses, even if she doesn't ride them around, and the stable owner is an NPC. And I plan to buy a house someday, which NPCs don't do, though most of them already own houses. So, on some level it seems like buying a horse is fair enough. That's one sort of shaky way to justify it.
The potentially bigger issue is that the cheapest horse costs 500 gold, non-negotiable. That's more than a third of the money I've spent the last twenty or so days accumulating. That's a big purchase for something that I don't have complete control over. Horses can die — they can be killed by bandits or monsters or other animals. They can fall off cliffs. They can get just plain lost if you don't stable them — I think they eventually wander back to where they were bought, which would mean another long slow walk up to Bruma to retrieve it. It's definitely risky.
But the idea is in my head now. I really want to avoid that walk, and it would be cool for Nondrick, always the loner, to have sort of a pet. A pal. Plus, I won't take him with me everywhere. If I'm out scouring for ingredients or exploring, I'll leave him in the stable, but there are going to be times when I want to travel between cities quickly. Like right now.
Ah, why the hell not? I plunk down my cash and wander out to the stable to retrieve my horse, whose name is apparently "My Paint Horse." Really rolls off the tongue. I use the console cheat "setactorfullname" and rename my new companion. I'm an alchemist, so what's the first name that pops into my head?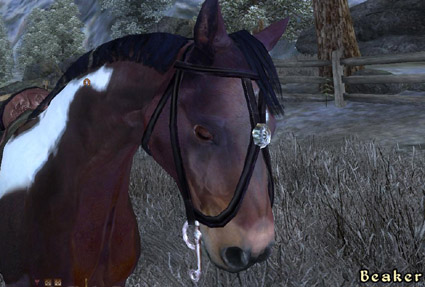 Yeah. Beaker and I are totally BFF now.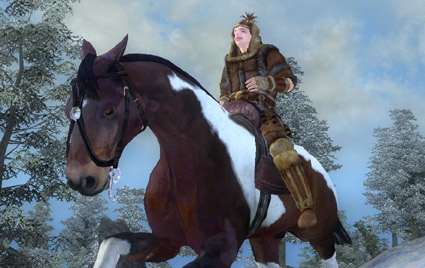 It's a completely uneventful ride down from the Jerall Mountains. The dead wolves are still lying in the road, so new ones haven't spawned to replace them and we travel unmolested. While Beaker isn't going to break any speed records, it's much, much faster than walking and we read the bridge to Imperial City before noon.
The weather has soured quite a bit, and it's gray and rainy as we make our glorious, thrilling… well, honestly, it's just a really crummy ride to the gates of Imperial City [YouTube] Stupid weather! It couldn't have been sunny? For this? Shouldn't the game know when I'm reaching its crown jewel for the first time and make the weather nice for the occasion? No. Guess not.
But hey, I'm here! I made it. Imperial City. No shit.
I park Beaker in the stable outside the gates, and step into the city, triumphant. Then I immediately dash back out to the stables, to make sure the game didn't teleport my horse back to Bruma or anything stupid like that. Yup, Beaker is still there, safe and sound.
I step back into the city again, slightly less triumphant than I was a moment ago, but still very, very triumphant. At least 96% as triumphant. I have a triumphant look around Talos Plaza.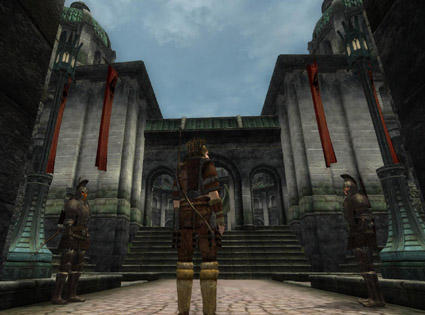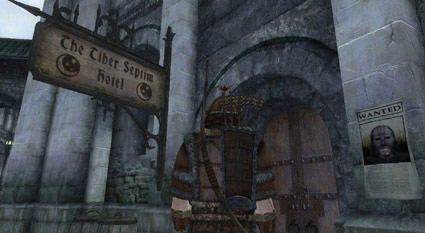 I find my way to a hotel, the Tiber Septim. It's huge, classy, and 40gp for a room. I decline to make a reservation, but I chat with the woman behind the counter, Augusta Calidia, then buy all her groceries, smoosh them into paste, and sell them back. I end up with 1062 septims after our transaction, so even after buying Beaker, I'm back in four figures again.
I head to the palace, and have a look around for famous spire that I've been getting tantalizing glimpses of since I got off the boat in Anvil. I'm sure it's around here somewhere…
I wouldn't mind taking some time to go sightseeing, but with the weather so crummy it doesn't seem worth it right now. Maybe I should get down to business first. So, I pick some mushrooms in the graveyard, then head into the Market District.
There are all sort of shops here. Magic shops, potion shops, armor & weapons suppliers, bookstores, a store that just sells shields, a jewelry store, plus several inns and pubs. I head to a general store called The Copius Coinpurse, where I buy all the cheap ingredients they've got. Instead of mixing them up, though, I head over to an alchemy store called The Gilded Carafe. Again, I'm just stockpiling, and I buy everything worth 2gp and under. I wander over to an inn called The Feedbag, and buy all the cheap stuff there, too.
I'm down to about 600 gold now, but I've got sacks full of corn, bread, apples, pears, cheese, grapes, carrots, lettuce, and other general groceries. Time to mix. I whip up some two-ingredient potions, like Corny Pear Juice, Grapey Cheese Glop, Tomato Radish Squeezin's, Blackberry Onion Slush, Potato Rice Stew, and Ham Watermelon Surprise (the surprise is that it tastes even more disgusting than Corny Pear Juice).
It all amounts to 86 Restore Fatigue potions, which the proprietor of the Feed Bag is willing to buy for 10 dollars a pop. When I'm done, I'm back up to 1543 gold. I can pay off Beaker.
I find another alchemy shop, The Main Ingredient, and buy them out of rice and pears, selling back the potions for another couple hundred bucks. I also buy some of the more exotic (yet still inexpensive) ingredients, and make some more interesting brews, like five Burden potions (they sell for 60 gold), Resist Paralysis (12 gold), and Restore Intelligence (also 12). I'm close to 1800 bucks, now.
I stroll over to the Merchant's Inn, as I am more or less a merchant, where I find rooms that go for 20 gp per night. I also find yet another treasure trove of groceries, and when I'm done mixing and selling them, two things have happened.
There's that, which will make my potioncrafting much more versatile. And, there's this:

I made over a thousand bucks today, all by visiting a handful of shops. I wasn't in any danger, I didn't have to explore caves or ruins, I didn't even have to brutally slaughter any women. All I had to do was buy and sell. Amazing.
I hang around the Inn for a bit, people watching, then head up to my room. In the morning, I'll be visiting the Office of Imperial Commerce, right here in the Market District. Something tells me there might be a house for sale around here I can afford. Okay, I happen to know there's a house around here I can afford, because I've played the game like five times before.
I also happen to know it's a real dump. So, like I had with Beaker earlier, I have another dilemma approaching. I can buy Nondrock a house, a real house, just like I've wanted to do since I started. But is the hovel in Imperial City the house I really want to buy him? Should I wait and find something nicer, even though it'll be much more expensive?
I'll sleep on it, I guess, and decide in the morning. And even if I don't wind up with a house tomorrow, at least I got a horse today.