I'm standing in the Office of Imperial Commerce in the Market District of Imperial City, listening to a catcher's mitt tell me that she's got a house for sale.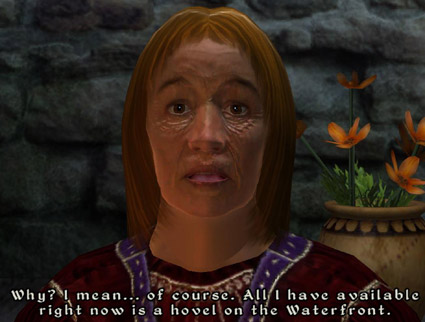 A hovel, eh? I've worked hard for my money. I've picked weeds, I've killed wolves and women, and I've mushed up questionable potions for over three weeks. Do I really want to blow my wad on a hovel? A dump, maybe. A shack, perhaps. But a hovel?
I decide I'll think about it a bit. It's not like I can sell it later if I change my mind.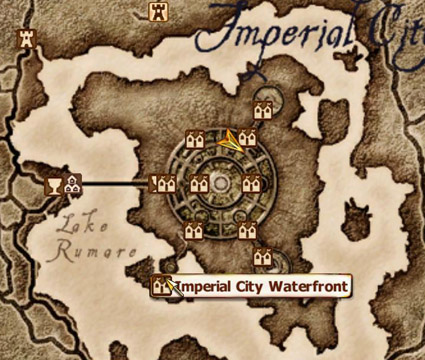 Part of the reason I'm hesitant is that the waterfront isn't the most convenient place to live. It's surrounded by a lake on three sides. I don't fancy Nondrick much of a swimmer, so anytime he wants to go a-gatherin', he'll have to walk all the way up to the bridge and cross it to reach the outside world. And that only gives him access to the area west of the city — if I want to explore to the east I have to circle around the entire city, which takes a while. Most cities have at least two exits, but here there's only one real way in or out.
I'll think about it. In the meantime, let's take some time to explore the city and see what it has to offer a guy with a full changepurse.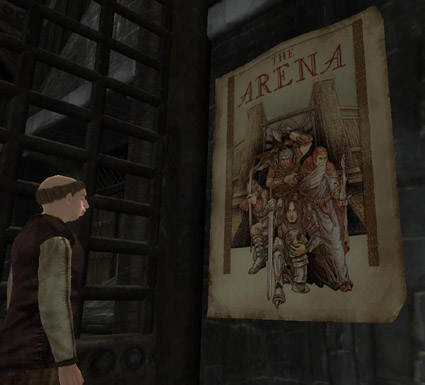 Like, say, gambling. Here in the arena district, you can bet money on the fights (or just watch them for fun). Two combatants, one from the BLU team and one from the RED — er, wait. One from the Blue Team and one from the Yellow Team will square off and fight until one of them is dead. I place 100 bucks on the Yellow Team (representing my own cowardice) and enter the arena.
With Nondrick watching from the balcony seats, the two combatants square off. For Yellow, a female with a two-handed axe. Blue's champion is a guy weilding a mace. Neither have shields, so they just pummel each other's faces with their weapons until finally, happily, the Yellow warrior fells the Blue. Nondrick won!
I rush back down to the bookie who gives me 200 gold. I doubled my investment and all it took was a man's life being brutally and irrevocably taken! I think I'll make another bet.
This time I bet on Blue, and I'm glad. As the combatants rush each other, I notice the Yellow warrior, a woman again, has no weapon. She's just using her fists and her complete lack of intelligence in this fight.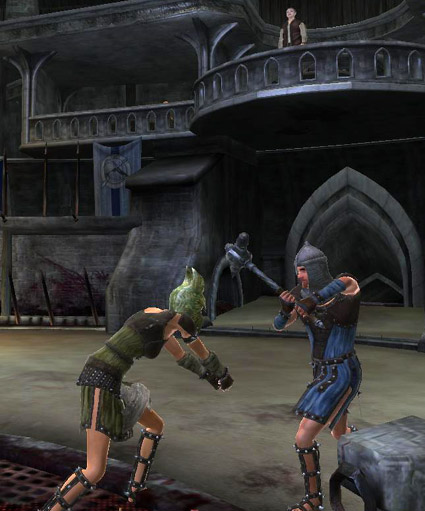 [By the way, If you're wondering how I'm watching from the arena floor while Nondrick is watching from the balcony, there's a console command, "tfc", that lets you leave your character and fly your camera around, noclip-like. Wish I'd known this from the beginning.]
Not surprisingly, Blue wins the round easily. I win again, and I'm up 200 gold! Clearly, I have a gift for gambling. I plunk another 100 bucks on Blue.
Immediately, I realize I've bet on the wrong horse. They're both armed with one-handed axes, but the female Yellow gladiator has a shield, and the male Blue does not. Dumbass! Why don't you have a shield with you? Borrow one from a friend if you have to, your life is on the line! I wish we could see the contestants before the fight, like you can do with racehorses. But then, I also wish racehorses would fight to the death. It'd be the best of both worlds.
The Yellow fighter strides away without even looking back, vanishing like my money just did. Dang it! Gotta win back my money! I don't have a gambling problem, I swear.
I run back outside and bet on Blue again. This time, I think it's a good bet. My guy has a huge two-handed hammer, and the Yellow chick has only a one-handed axe and no shield.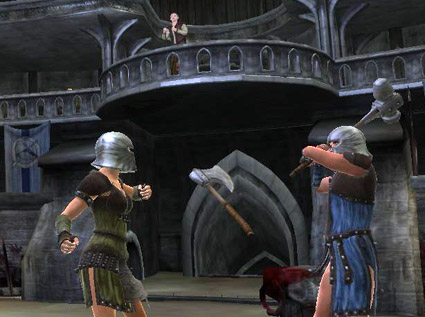 Wow! Blue immediately clobbers Yellow so hard she drops her weapon. Boink! While she bends down to pick it back up, he's got a clear shot at her head! He doesn't take it, however, perhaps being too much of a gentlemen. It doesn't matter in the end, though, she ain't got much game and it only takes a few more swings of his hammer to viciously pound her to death. Then he walks off, stepping on her face in the process.
So, I guess he's not a gentleman after all. But who cares, he's my personal hero because I just won another 100 gold! I'm three for four today! And I've never even put points into my Luck attribute!
One more match and then I gotta go. I swear. This is the last time I bet on people murdering each other today. I do not have a gambling problem.
I put my money on Yellow this time, feeling they're due for a win. You can watch the entire fight here on YouTube, including some thoughtful reactions from Nondrick in the booth after the match. I won't spoil it, but once again, someone thought it would be a good idea to show up without a weapon. Though this same someone appears to teleport during the match, a clever move, the outcome is never truly in doubt.
Okay, that's all the bloodshed I want to see today (this is a lie: I want to stay and keep gambling). That hovel on the Waterfront seems more appealing now, being so close to the Arena. That was fun. Reminds me of that To The Death feature some guy used to do on some website.
Even outside the Arena, people are getting in on the action, and I watch a lizard and a lady wearing a bra spar for a bit. They tell me they're busy training. I'd like to suggest they try training with weapons, because fists just aren't the way to go. I've just seen the proof.
I head over to the city's Arboretum, which is quite lovely [YouTube]. Along with all the lovely statues, trees, plants, and other foliage, I notice a sewer grate in the ground, leading to the tunnels under the city. I decide to take a look. You know, I don't want to just visit the cheesy tourist traps like the Arboretum, I want to really experience this city! I want to see the grit and the grime, the filth and the stink, the shadowy underworld of this gleaming city. Otherwise It'd be like going to New York and not checking out the subway, or going to San Francisco and not checking out Oakland.
Immediately, I'm attacked by a giant rat. So it is like the New York subway.
Wow, swanky city indeed, even the rats are born with silver spoons in their intestines. It's so damn classy down here.
I find some other junk in a couple rotting crates — a hand scythe, a couple covered pots, a stone pitcher, a pickaxe… someday these will adorn my home. Possibly some day very soon, if I decide to buy the hovel.
I come across some mudcrabs and dispatch them with fireballs. I come to a door that informs me it leads to Bloodworks, which is directly under the arena. Maybe I could meet some of the gladiators, and thank them for killing people so that I may make fill my pockets with gold.
Or, maybe I should get the hell out of here. One corpse dangles from the ceiling, another appears to be nailed to a wall. In an adjacent room, I hear the creaking of bones and see a skeleton pacing slowly about.
Time to creep back out the way I came.
It's getting late as I finally make it to the waterfront to check out the hovel firsthand. It doesn't look like much, but the view is nice.
I'm still not sure if I should buy it. In the meantime, I need to find a place to rest for the night. I stroll along the Waterfront, where some pirates sing to me and rudely insinuate that my pants are, as they put it, "fancy." A few minutes later I find an inn, called the Bloated Float. It's actually a boat anchored to the dock that's been converted to a restaurant and inn. How novel! I'm a tourist after all, I guess.
The rooms are 10 gold for the night, so after a quick meal and a drink, I head down to my bunk for some sleep. In the morning, this message greets me, appearing before my eyes.
Ah, crap. Is this game still trying to make me do quests? Haven't I made it clear that's not my scene? Sigh. I'll just do what I always do, ignore it and carry on with my day.
Then this guy greets me, appearing outside my door. A big ass dude with a big ass sword, wearing some impressive-looking armor. He's… not going to be easy to ignore.
It looks like adventure finally found me. It looks like my luck's run out.