I'm interrogated the moment I step out of my bedroom on the Bloated Float, by a large Nord named Lynch, who cleverly determines that I don't look like a professional outlaw.
I tell him I'm just a passenger, hoping he'll leave me alone or not feel threatened. My other choice was to tell him to mind his own business, which I somehow think wouldn't defuse the situation.
Unfortunately, he doesn't accept this answer. Two things, only two, come to mind: I could tell him I'm with the City Watch, or tell him I'm in his gang. Unfortunately, there's no option to explain that I'm a humble radish-picker who took a nap in the wrong floating hotel.
I tell him I'm in his gang, despite the fact that he's already surmised I am not. This does not feel right to me. I should be able to beg for my life or offer him some money or something in exchange for not killing me, right? Apparently, the game has not caught on that I am a cowardly silverware collector. Hasn't it been paying attention?
He says something menacing that I forget to take a screenshot of, and then draws a gleaming sword that looks like it's about twice my height. Ah, fuck.
I'm not even wearing armor. Sure, I could pause the game by bringing up my inventory screen and put on every piece of armor I've got, but I'm trying to roleplay here. I'm trying to roleplay a very stupid peasant in a very dangerous situation. There's nowhere to run. There's nowhere to hide. A short sword and some humble merchants clothing are all that stand between me and the hereafter. Between me and the end of this blog.
We square off. I hold up my blade defensively, waiting for him to make the first move. Cripes, lookit that thing he's holding. If he misses he could sink the ship.
He takes a swing, I block, and then fling a fireball at him. I miss, despite being about an inch away. Stupid third-person perspective. I fling another and hit, and he lights up like a Christmas tree that's had a fireball flung at it. Unfortunately, it doesn't seem to do much damage. Gonna have to use my blade to win this one, I think.
Our weapons clang off one another in the narrow hallway as we hack at each other. He's thrown off balance when I block one of his blows, and that's when I strike, then get back into defensive posture again, always keeping my guard up. I throw in a fireball or two, which hit but again don't do much damage. He lands a couple blows and my health drops to about half.
I back up and throw some more flares his way. My kingdom for a Backburner! Still, I think I have him on the ropes. One more good slash with my substandard blade and he flops dead against the door.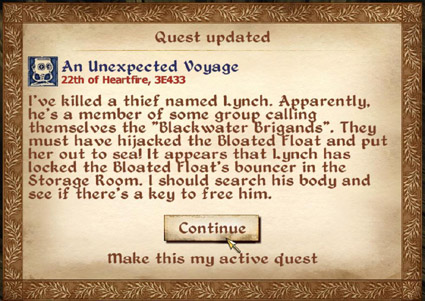 Lynch doesn't have much on him. A measly 4 gold, the key, and a set of leather armor. He's also carrying a note.
Guess Lynch doesn't read so well. I put on his armor and take his silver longsword. I have to admit, I look kinda badass.
At least until I put on my stupid fur helmet. Kinda ruins the look, but I need all the protection I can get. I heal myself a few times, then free the bouncer, an orc, who's been locked in a closet. He tells me he can steer the hotel back to land, but he won't go up to the deck until it's safe. Looks like I'm not out of this yet.
I eat some food I find in the storage room, heal myself back to full health, and creep upstairs.
At the top of the steps I spy another brigand. I think about attacking her before she sees me, but I'm just not that kinda guy. Maybe I can talk my way out of the rest of this quest.
I tell her I'm in the gang, and that Lynch sent me up to help her. I guess I'm as poor a reader as Lynch was — his note specifically stated not to bother her, and she knows I'm lying. Oops.
This time, I'm much better prepared. I've got armor, a shield, a dead animal protecting my head, and a sword that does three times the damage my old one did. She's a pushover. She also doesn't have much loot on her, except 5 gold, her armor, a steel sword, and a key to the top deck.
I definitely can't swim home from here.
I head aft, and wind up directly behind a hulking Nord henchman named Wrath. He doesn't see me. I decide to poison my sword this time, to hopefully avoid any extended combat. The only potion I can mix up is a Burden (which could potentially root him in place), so I soak my blade in it, then talk to him.
I feed him some lines about how I'm in the gang, which doesn't work for the 3rd time in a row. Jeez! Why are these outlaws so suspicious of a complete stranger in their midst?
We fight. He dies. Man, I'm lovin' this new sword. I'm keepin' this new sword. I take his armor and steel sword and the handful of change he's got in his pocket. And yet another key, this one to the cabin of the hotel owner.
The wussy orc bouncer tells me he won't turn the ship around until he knows his boss is safe, so I'm going to have to rescue him from his cabin. I heal myself again, then prepare my ace-in-the-hole: my frost damage spell. It does 50 points of damage, but I have to be close enough to touch someone to use it, and I can only use it once per day. Still, it's gotta be better than my wimpy flare, which doesn't seem to hurt anyone but mudcrabs.
I enter the cabin. There I'm faced by a very attractive woman, Selene, the apparent leader of this gang. Behind her is the proprietor of the hotel.
I tell her I'm the ship's cook. She doesn't believe me. I'm getting a little TIRED of these distrustful BRIGANDS.
She's fast, and cuts into me with her sword, which is apparently magic as it starts draining my fatigue. Not good. The lower my fatigue, the less damage my attacks will do. I run right up to her and cast my frost spell right on her, well, bosoms, let's say. Immediately her health drops to almost nothing. Score! Thank you, Nordic heritage! I block her next attack with my shield and make a big swing with my sword while she's off balance. Whammo. She's down for the count. Whew.
Ormil, the guy who's hotel she stole and who she was holding captive, the guy I just saved from certain death, turns and walk right past me, leaving the cabin without a word of thanks or even a look in my direction.
Fine. Nice gratitude, asshole. I look around his cabin, and see a table with some food on it. I decide to take some, just for his rudeness. I'm totally stealing your carrots, jerk. And I DO. I STEAL HIS CARROTS. I take an apple, too. Let no one tell you Nondrick doesn't have a dark side.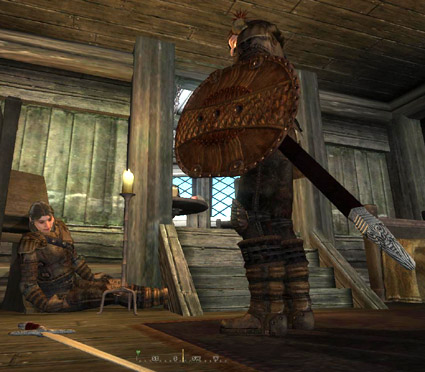 I strip the dead brigand of her belongings, another set of armor, and her magic sword, the Blackwater Blade, which absorbs fatigue. That's pretty cool, a magic sword, but honestly, my new silver sword does more damage, and I think I'm gonna stick with it. If I get a magic sword, I gotta recharge it when it runs out of juice, which means paying mages for their magic, and then they always try to get you to buy the extended warranty, and it's just a big hassle.
With all the junk I've picked up, I'm over-encumbered and can't move. I drop some of my old fur armor on the floor until I'm light enough to walk, then head back into the bar.
There, Ormil finally shows me some gratitude for saving both his life and his stupid hotelboat. He explains that to boost his floating hotel business, he made up a story about some treasure he had on board, and that's what the four brigands were after, and what they died for. Good job!
We get back to the city, and Ormil gives me a reward: 75 gold. Wow, thanks. He then rifles through my pockets without my consent, removing all the keys I'd collected. Don't worry, I won't be back. And I'm not returning your produce. And, with that, I've completed my first, and hopefully last, genuine quest.
I do, however, have a personal quest to attend to. This adventure on the boat, while unwanted and unwelcome and, frankly, very un-Nondrick, has at least made up my mind about something.
I went to the Bloated Float because it was late and I needed a place to sleep. And I did that because I didn't have a place of my own to sleep. I didn't have a safe haven. I didn't have a home. I'm rectifying that right now.
I walk to the Office of Imperial Commerce and buy that shithole in the Waterfront District for 2,000 gold.
There. Done. Did it. Done did it. I've got Nondrick a home.
Now I can end the blog.
Just kidding.
My new home, um. It ain't much. Just a bed, a fireplace, and a table. Not even a friggin' chair.
Still, four walls, a roof, and it's mine. Besides, I can cozy it up a bit, right? I start going through my pockets and putting my carefully collected items around the room.
On my bedpost, I put my hourglass. You know, so I don't oversleep. I also put out my crystal ball, so every morning I can see what kind of day I've got planned. And, I put the folded cloth I stole from the hotel in Anvil, my first hotel, down at the foot of the bed. I also put a pot on the floor. Fer, y'know.
On my table, I (awkwardly) lay out the silverware I've found inside dead, filthy animals. A couple forks, a knife, and a spoon. I also put out the stone pitcher and mug, and a couple pots. Guess I'll have to buy a plate at some point, or maybe find one inside a dead rat.
Well, it certainly ain't much, but it's home. And hey, there's my very own bed. I think I'll give it a test drive.