[I apologize, in advance, for the lack of and quality of the images in this entry. This all took place in the dead of night where I could barely see my health meter in front of my own face. In order to see anything in the screenshots, I have to really tweak the levels up which leaves them looking real poopy. Plus, some things happened so fast I didn't even have time to snap a shot.]
Here I am, a stone's throw from Skingrad, and once again I'm being hunted by a female bandit. This time, I'm not going toe-to-toe if I can help it. I'm determined to reach the city without shedding any blood or risking my life.
Dropping into a crouch, I hope she'll just give up on me, but this time, bending over, even in near-total darkness, doesn't hide me from her keen bandit senses. She knows I'm there and calls for me to come out. I don't, instead slinking into the bushes to the south of the road, hoping to slowly circle around her. It works — she loses me in the night and I spot her moving further down the road, away from the city. I take off my fur boots, hoping it will make me move even more quietly. I climb a small rise and peer down at her camp.
That's when I hear another voice calling for me to show myself. A male voice. Dammit, there are two of them now.
He knows I'm there, but he isn't climbing the rise to get me, possibly because it's much steeper on the other side. Still, he's not going to just let me go. I'm not sure where the woman went, but I don't hear her anymore. This could be good or bad. Fighting multiple enemies in Oblivion is never really a picnic, no matter what level you are, especially in the dark, and especially if most of your skills can only be applied to picking onions. It's time for plan B.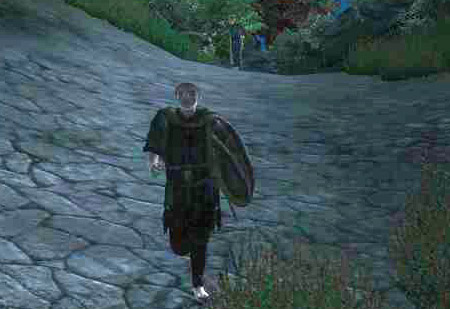 Ruuuunnnnnnnnnn! I tear through the camp and back out onto the road. The male bandit gives chase, but there's still no sign of the female. I can see Skingrad ahead of me in the gloom. I'm very close but he's not letting me go. I know if I can just reach the city gates, he won't follow me inside. Plus, there's a chance an armed guard might help me.
Behind me, I hear some yelling, and the sound of a spell being cast and the sound of blows landing. I turn around in time to see two figures engaged in combat. One is the bandit, the other is someone I've never seen before. He appears to be unarmed, and he strikes the bandit with, I think, only his fists. The bandit, amazingly, falls faster than a fleeing NPC can take a screenshot.
My savior this time is a fellow named Toutius Maximus. I'm a bit stunned. I have no idea where he came from or how he took out a bandit, who, on closer examination, was a Bandit Hedge Wizard. Being a wizard who hides in the bushes and robs people, I guess. That's how Dumbledore got his start.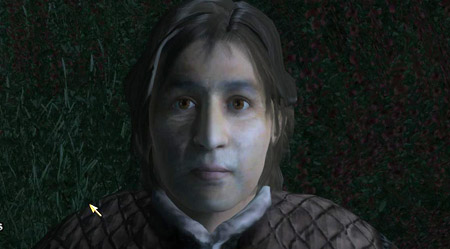 Toutius seems pretty nonplussed about killing a man with his bare hands. I ask him for some rumors, as one naturally does after witnessing someone pummel someone else to death, and he encourages me to join the local Fighter's Guild. That's not a bad ad campaign, really — punching a wizard to death is a pretty convincing demonstration of the benefits of signing up with the Fighter's Guild. Do you want to brutally club a wizard to death with your fists? Sure, we all do!
Well, once again I've been saved by an extremely violent stranger. I thank him by stripping the dead wizard of all his stuff, which includes a Poison of Frailty. I'm plenty frail already, thanks.
I made it, though. Skingrad! I even get an escort to the gate. By a bunch of sheep. I quickly find my way to the Two Sisters Lodge, but before I can enter some whackjob Bosmer named Glarthir stops me in the street with some odd babbling: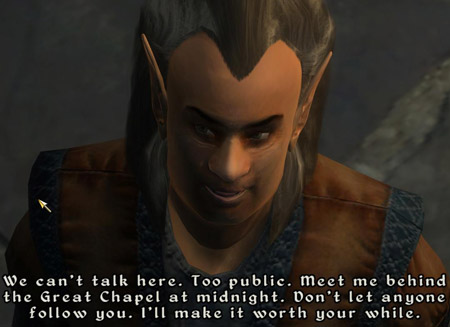 Um, yeah, how about not? How about you go behind the chapel, wait until midnight, and then pound some Imp Gall up your ass?
Inside, I talk to one of the two sisters who run the lodge. She's an orc (presumably, the other is as well). She's got a room and it'll only set me back 10 gold. Honestly, right now, I'd have paid a hundred. It's been a long day.
The room is very sparse and there's no food or towels to help myself to, but I don't care. It's almost two in the morning after a long trip that's introduced me to imps, bandits, goblins, wolves, and wizards… it's been a real adventure, and that's precisely the sort of thing I'd like to avoid.
As I prepare to stand next to my bed all night and get some rest, I find myself hoping that Skingrad will be more accommodating than Anvil was.  Traveling is too damn dangerous for a level one NPC, and I don't plan to do it again anytime soon.