A bright orange sphere signals that it is morning, but it's not the sun. It's Sir Dion of Beta-Carotine, the guardsman, standing in my room.
I'm kind of annoyed. What kind of scumbag walks into someone's room while they're sleeping, wakes them up, and has a little chat?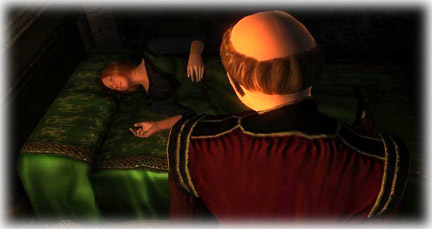 Oh, right. Right.
Anyway, Dion is kind of a dick. He warns me that Glarthir is crazy, and tells me to report any strange behavior to him or another guardsman. Then, he leaves.
It is at that moment I realize something truly awful. Before I went to bed last night I was rifling through my inventory and outfits and stuff, I guess I accidentally put on my stupid fur helmet and never took it off. So I was wearing it the whole time Dion was having his dramatic and pressing conversation with me.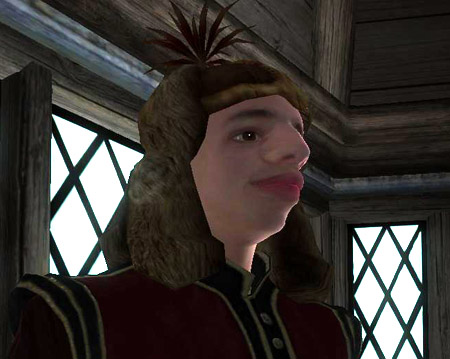 That's just great. He must think I'm an idiot.
At any rate, it's somewhat satisfying to have this game, this world, so completely desperate to provide me with adventure that it's actually breaking into my room while I'm sleeping in a stupid furry hat to offer it to me. And yet, I resist, as I plan to spend today strolling around doing nothing.
Which turns out to be pretty easy, because after the Dion incident, Oblivion seems to have given up on me. Instead of adventure, it feeds me a steady diet of grape-related anecdotes. Everyone I stop and talk to just can't shut their goddamn yaps about grapes.

Okay, there's a little adventure in there, but it's mostly grapes. The exceptions are Dion, who I run into again, and who tries to pressure me into suggesting that Glarthir be arrested, and Glarthir himself, who is angry with me for not meeting him behind the chapel.
While I'm finding these Skingradians alternately extremely dull or fairly annoying, I'm still interested in seeing what sort of house might be for sale in town. After all, I don't want to live in inns forever. I want a place for myself, to display my treasures, such as… well, I've got that wolf-fork, anyway. It's a conversation piece!
I pick up a tip that I should visit the castle and speak to an Orc named Shum gro-Yarug if I'm interested in a house. I track him down and engage in the usual mode of chit-chat, in which I watch his face carefully to determine if he prefers being threatened, joked with, admired, or bragged to, and then engage in some combination of the four. Which is odd. I mean, if I know the guy hates jokes, why would every fourth thing out of my mouth be a joke?
It takes a lot of talk, and one cash bribe, to even get him to trust me enough to even mention the house for sale.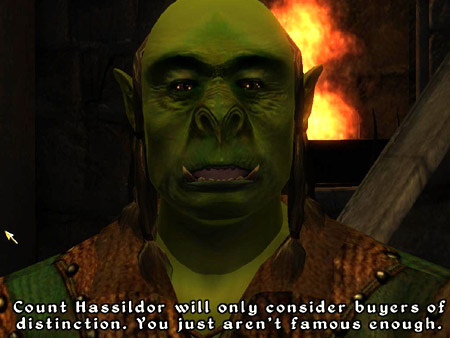 Well, okay, fair enough. I can accept that, but I think I should get my 12 septim bribe back, at least. Plus, walking slowly everywhere really eats up time and the day is almost over.
I head up to the bridge to see if I can catch a glimpse of Imperial City's famed tower, which is said to be visible from every city in Cyrodiil. Just as it did in Anvil, the weather conspires against me. Fogged in, I can't see far at all, in any direction. Especially the wrong direction.


Suckage. Depressed, I go buy myself another outfit. For clubbing.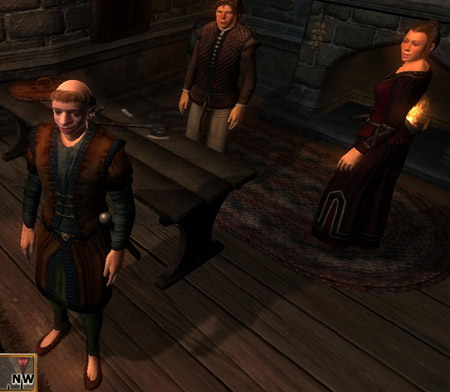 I head to the West Weald Inn to show off my new duds, which appear to be flats and a dress. There I meet a woman named Else God-Hater. As advertised, she hates the Gods.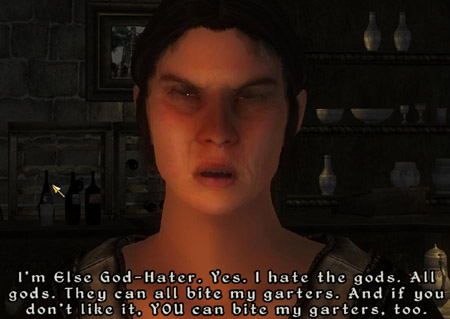 So noted. I also overhear a conversation between Else and a heavily armored elf regarding the hottest topic in of all of Cyrodiil. It's on YouTube here.
Fearing Dion may burst into my room at the Two Sisters Lodge again tonight, I shell out a bit extra for a room at the West Weald. It's a small room but it's on the corner, which would mean something if I could see out the windows.
The next morning I'm up and sporting my fancy blue duds. I grab some breakfast (an entire watermelon, just for a change) and I decide, what with all the chatter about grapes, I'd better check out the vineyards before someone kicks down my door and demands I visit them. The vineyards, as it turns out, are not only full of grapes, they're full of people who want to talk about grapes. It's a real grape town, this Skingrad.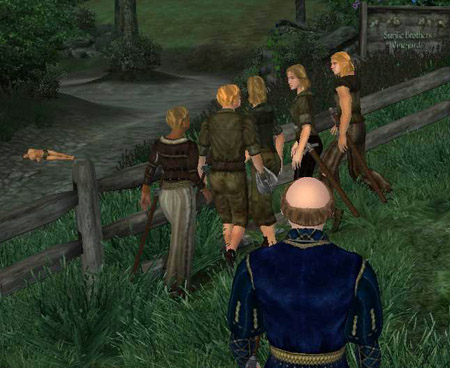 I notice a bit of a traffic jam as well. Looks like a bunch of travelers from the Crowded Roads mod I installed have gotten stuck behind a fence. I also spot the dead naked pummeled wizard lying in the road — dead and pummeled courtesy of Toutious Sextus, naked thanks to yours truly.
I do a little ingredient gathering, though I don't pick any grapes. I could, easily, as there are tons of them and it wouldn't technically be stealing, but as an NPC I am bound by a different code. Anyway, I don't want grapes. I'm tired of seeing them and tired of talking about them. I head back into the city, kind of grouchy.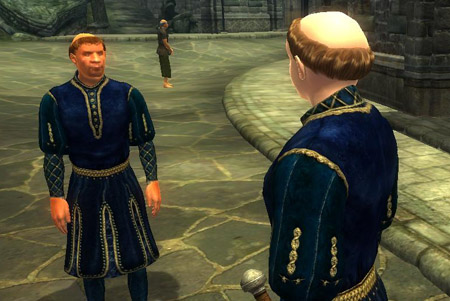 Oh, for fuck's sake. This doesn't help my mood at all. This douche is not only wearing the same outfit as me, he's wearing the same hair.
I stomp away, back up to the bridge, to take one more stab at seeing the distant spire of Imperial City. Despite the weather being fairly clear, I still can't see if from the bridge. Night is approaching, so I start back, but decide to climb a nearby hilltop not far from the bridge.
And there, in the fading light, through a gap in the lush trees, I finally spot it.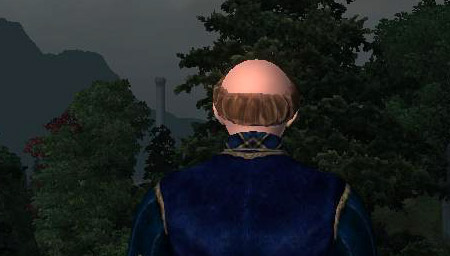 The White Gold Tower. The center of Imperial City, the meeting place for the Council of Elders.
You know, I don't think I want to live in Skingrad, or even stay here much longer. I want to be there. In Skingrad, I'm a big dork in a little city. I want to be a little dork in a big city.
At the same time, I'm not sure I've got what it takes to make it there. Not yet, anyway. One thing's for sure, I'm a little bored with walking around hearing about grapes. And I got an idea this morning, while I was preparing to stuff an entire watermelon down my craw.

The woman I bought the watermelon from also sold boar meat, and for a pretty penny, too. While I haven't seen any boar, and probably won't until I've gained a few more levels, maybe I should try my hand at harvesting something other than weeds.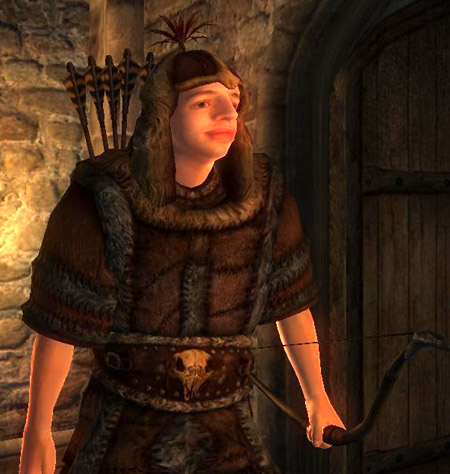 Yes. Tomorrow, a hunting I shall go. A hunter… I shall be.