A lovely night of free sleep at Atrene Camp, and I'm ready to start Day Five. I've got lots of ingredients and two axes to sell, so I think I'll head into Anvil. Maybe I'll have enough cash afterwards to pick up more than lunch.
As I head toward the main road, I see my Khajiit buddy loping up the road toward me! Maybe he finally wants to talk to me?
Yeah, he does. "Your money or your life," he says. Wait, haven't we been through this once already?
Well, it worked last time: I tell him I have no money. Now, he'll wander off and our strange relationship will continue, right? Ha ha! Good times.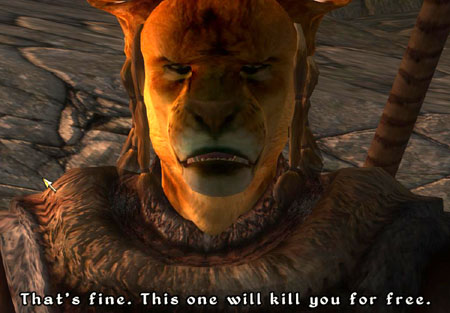 Ruh-roh. What the hell, man? I thought we had an agreement! You were the gruff criminal with the heart of gold, and I was the fish-faced putz in the vest! We were a great team!
I guess he doesn't feel that way. He attacks with his ginormous axe, and I backpedal, trying to ready one of the axes I got from the skeletons. I attempt to yeild, hoping for a truce, but he's not having any. Mere feet from the corpse of the wolf he saved me from, he slams his great axe into me, drawing blood and blurring my vision.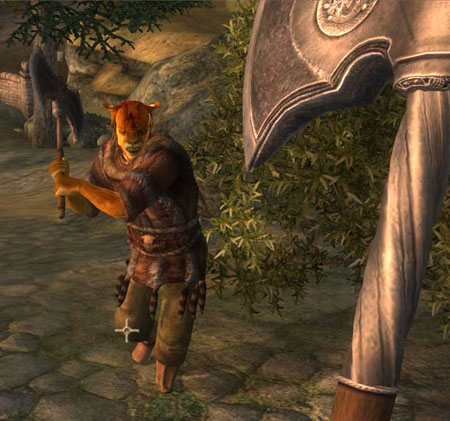 Okay. If it's gonna be a fight, then it's gonna be a fight. No one to save me this time except me. That's life in Cyrodiil, baby. Quite often you wind up going toe-to-toe with the people you know best.
Suddenly, something huge and iron fills my field of vision — and it's not the highwayman's axe. It's the Imperial Legion soldier I've seen patrolling the main road from time to time! He's come sprinting out of the undergrowth, rushing right past me and swinging his huge honkin' sword at the Khajiit! Unbelievable. He circles around and slams his weapon into the highwayman's back.
The Khajiit, foolishly, continues to target me, instead of defending himself against the much larger, pointier threat. And in a just a few moments, it's over. The highwayman is dead, and the soldier sheaths his sword, gives me a look, then marches back off into the trees to find his horse.
Well, that's that. Too bad. I'd sort of gotten used to seeing the gruff Khajiit skulking around every time I passed. He was merciful to me, once, and even saved me from a wolf. It's a shame, and it's sad, how things ended up for him.
On the other hand…
One man's misunderstood life and violent, tragic death is another man's free fur armor and giant honkin' battle-axe! Awww yeah! That's life in Cyrodiil, baby! One minute you're mugging travelers, the next, a bald twerp is leaving your naked body next to the road and heading into town to sell your belongings.
Turns out, the soldier who saved me is headed back to Anvil, so I walk along with him. Funny. The Khajiit saved me from the wolf, and the soldier saved me from the Khajiit. Who knows? Someday I might need saving from the soldier.
That's life in Cyrodiil, baby.