I was flipping around the TV channels tonight, and saw they were showing Predator on AMC. Well, that's my evening, right there. I'll always watch Predator. Always. If it's half-over, if it's just starting, if it's the final few minutes… if it's on, I'm watching it. If it's on again tomorrow night, I'll probably try to catch the parts I missed tonight, and depending on my laziness, I might just watch the parts I didn't miss tonight, again. I think everyone probably has a few movies that, if they come across them on TV, they'll always watch, no matter what.
These movies are generally not even what I necessarily consider my favorite movies. I tend not to own these movies on DVD (I don't own Predator). A few of my favorite movies that I own —Blade Runner, Brazil, Seven, Das Boot, L.A. Confidential, No Country for Old Men — I rarely watch, maybe once every couple years. And I don't watch them on if they're on TV.
While I was watching Predator, I started trying to picture a movie channel line-up filled with my Always Watch movies that would keep me on the couch a full 24 hours because I can never pass up watching any of them. Here's what I came up with.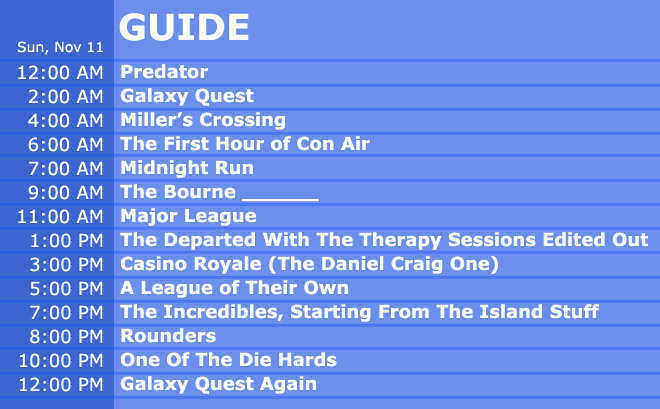 What's on your Always Watch line-up?