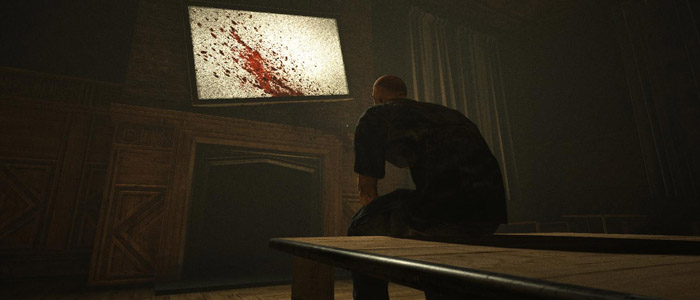 I recently reviewed a horror game called Outlast for an upcoming issue of PC Gamer Magazine. While I've written for the magazine before, this is the first actual game review I've ever done.
Naturally, when reviews of Outlast started popping up online, I wanted to see what other reviewers thought of the game. While looking through the first handful of reviews, I noticed something that didn't quite sit right. Many of the reviews — about two-thirds of them, in fact — used the same three or four screenshots. These were screenshots given to them by the developer (I got them as well, along with review code) as part of a PR media kit.
Using a developer's screenshots for a PC game review seems… well, a bit misleading. The reviewer doesn't know for a fact that these are genuine screenshots. They may have been embellished, or touched up, or Photoshopped, or specially rendered. Presumably, these developer screens have been carefully selected as part of the game's promotion. Reviews, on the other hand, are not (or should not) serve as promotion. Reviews are an opportunity for a writer to describe his or her specific experience with the game. If a reviewer doesn't use his or her own screenshots in the review, it seems (to me, at least) that they're not accurately describing their own personal experience.
I can think of a few reasons why PC game reviewers might want to use a developer's screenshots. First, it's easier. Taking your own screenshots can sometimes be a hassle. For instance, in Outlast, there's a rather large, gruesome, angry fellow who sometimes chases you around, and upon catching you, tears off a sizable chunk of your body. The first time it happened to me, naturally, I was busy trying to make sure it didn't happen to me. But, once it had happened, I thought it might be worth taking a picture of. So, when the game reloaded, I deliberately let him catch me so I could take some pictures of it. I had to do this a few times to get a decent shot of the brute throttling me.
At one point, I got a good screenshot of another psychopath, who had captured me, as he rubbed it in by showing me just how close I was to escaping: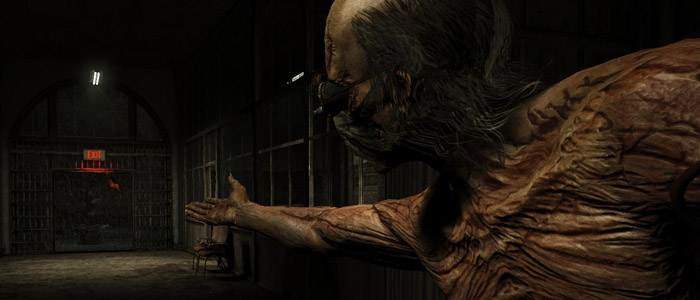 I realized I could get a better one, however, as lightning was flashing intermittently outside. During a lightning strike, the passageway was fully illuminated, casting shadows on the floor, and you could see the pouring rain outside. So, I went back, replayed the sequence, and sat there hammering the screenshot key until I captured a lightning strike, and submitted that image along with my review. In what turned out to be about a five or six hour game, I probably spent an additional half-hour or so just trying to take good pictures.
Now, I realize staffers at sites and magazines don't always have the time freelancers do (I am freelance). Playing and reviewing Outlast was one of only three writing commissions I had that week (unfortunately). A staffer might have multiple articles to write and games to play and interviews to conduct in a single day, and finding extra time to monkey around in a single game might not be the easiest thing to achieve. I totally get that, and I don't have any kind of solution for a reviewer in a time crunch, except… I still think you should use your own screenshots, even if you don't have extra time to go back, replay, and capture every image you'd like to snag.
Another possible reason for using PR screenshots: they can make your review look pretty damn spectacular, especially on websites with a lot of real estate for images. There's one popular game site that features huge, gorgeous, edge-to-edge splash images as a major part of their eye-catching format. That's cool. Those developer images look (gruesomely) lovely on that site. The thing is, is that what the game really looked like for the reviewer? I don't know. I don't know what their reviewer saw. I only know what the developer wanted us to see: the images they selected.
I should point out that the screenshots I personally took may not represent the game faithfully, either. I don't have a top-of-the-line graphics card, and I don't have a massively high-res monitor. For all I know, the average gamer's experience with the game may look more like the PR screenshots than my own. The developers may be aghast when they see my screenshots in the magazine, and think, "This is terrible! Our game looks WAY better than that!" And, I can definitely understand them not being thrilled at the idea of someone reviewing their game in a magazine and not showing off the absolute best graphics the game can provide. BUT. Like I said, a review is a description of one reviewer's experience. I can't predict what another player's time with the game will be like. I can't speak for anyone but myself. My review will describe my experience: what I played, what I did, what I heard, and what I saw.
I hope I'm not coming off as holier-than-thou, or some kind of purist snob, especially considering, like I said, this was my first real review. I'm really not trying to shame anyone who uses PR screenshots, because I understand the reasons for it, or at least I think I do. I don't think it's a huge deal, and it certainly seems to be a commonly accepted practice (of the 25 reviews of Outlast I've seen, only about ten of them appear to be using original screenshots). I'd just like other reviewers of PC games to think about the practice of using PR material in their reviews, and maybe reconsider it.
I'll refrain from calling anyone out specifically, but here's a link to metacritic's list of Outlast reviews, and if you start looking through them, you'll start seeing the same handful of images in many of the reviews. Keep in mind, I'm only talking about PC game reviews. Previews are a different story (I assume, as I've never written one) as are console game reviews (Outlast, at the moment, is a PC-only title).