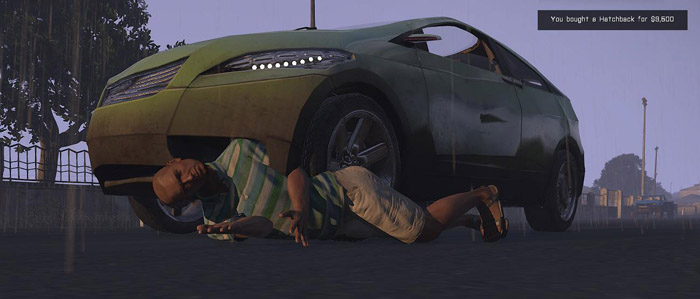 Hello! Here's a quick rundown of writing of mine that appeared on other sites last week.
For PC Gamer:
My weekly mod column covers Altis Life for Arma 3, a game mode where you assume the life of either a civilian or a police officer on the massive Altis map. As a cop, I ran around with other cops desperately trying to find crime to stop. As a civilian, I bought a car and ran myself over with it. Somehow. That's me in the above picture, under my own car. I don't even need enemies or other players in order to hurt myself in games, apparently.
My Rust diary wraps up with a long, lonely jaunt around the entire map and a return home to find that my cozy neighborhood has undergone some major changes.
For Rock, Paper Shotgun:
In my weekly early-access column, I took a look at Planet Explorers, an ambitious survival slash exploration slash crafting slash building slash multiplayer game. It's trying to do a lot of different things, and doing most of them pretty well. Best of all are some of the interesting-looking alien dinosaurs.
I don't think I added to my DayZ tumblr this week, as I didn't have much time to play. I'm thinking about trying the new experimental branch to check out some of the upcoming changes, though.