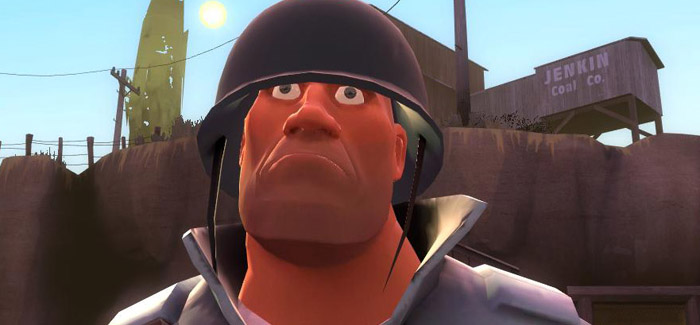 Badlands, South Dakota — In the midst of a hotly contested battle to capture a control point, a soldier for the Builders League United (BLU) announced to several guys that they needed to capture the control point. Seriously.
"Come on guys," the soldier said to his teammates, in a bored voice that downplayed the brilliance of his tactical awareness of the situation. "Seriously. We gotta take that point."
"Guys," he added. "Seriously."
The soldier's bold statement of purpose came after several minutes of violent conflict raging around a control point on a tall, rocky spire, which the members of rival group Reliable Excavation Demolition (RED) had captured earlier that day. Realizing that RED currently had control of the point, the soldier instinctively determined that BLU should, and indeed must, regain control of that point. Seriously.
Putting this complex series of revelations into words was next in the soldier's series of brilliant tactical moves.
"Guys," the soldier reiterated, elaborating further on his already complex strategy. "Come on. Let's get that point."
Other members of BLU received word of the plan, having had no idea up until that moment that the control point they'd been fighting on and around for long minutes required capture.
"No shit," said a BLU Demoman, clearly impressed with the tactical thinking on display.
"Really?" offered a Heavy who was currently standing on the very control point, fighting for his life. "Thanks, I had no idea."
This isn't the first time this same soldier has demonstrated leadership and tactical planning in combat situations. He has hatched a number of equally brilliant plans in his career, all of which he has selflessly and repeatedly offered to his teammates.
While struggling to steal secret intelligence documents from RED's base several weeks ago, he quickly determined that a medic on the BLU team would be needed for success, and stated "We really need a medic" nearly a dozen times in the span of five minutes.
On another occasion, while his team was attempting to push a cart with a bomb strapped to it into enemy territory, the soldier determined that the best way to push the cart was by pushing the cart, which he expressed to his team by telling them, "Push the cart."
As the battle for the control point continued, the soldier noticed that despite repeatedly outlining his plan to retake the point, the point was not being retaken. Undaunted, he continued to helpfully guide his teammates toward their goal.
"Guys," he said again. "Guys, seriously."
"Come on."