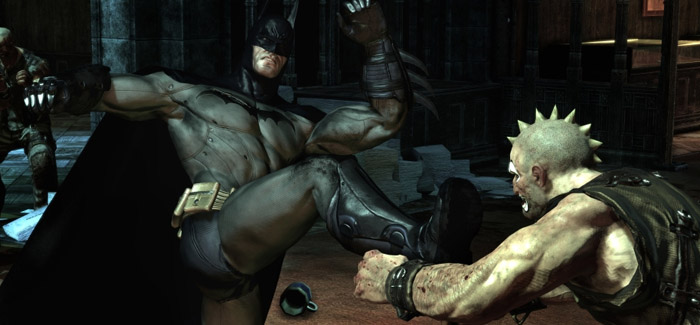 Arkham Asylum, Gotham City — Legendary Gotham City crime-fighter Batman, after years of vigilante service combating thugs, monsters, and super villains, gradually learned a number of basic crime-fighting moves while dealing with the Joker's recent takeover of Arkham Asylum.
Despite his years of experience battling numerous insane villains and their hordes of goons and ruffians, Batman, Gotham's mysterious masked avenger, discovered there is still much to learn about unarmed attacks and evasive maneuvers, such as how to perform unarmed attacks and evasive maneuvers.
"This works great," Batman growled, throwing one attacking Arkham goon into another. "Throwing one goon into another goon and stunning them both is a great way to deal with crowds of enemies. Why haven't I tried at some earlier point in my long career of fighting crowds of enemies?"
"Takes a little getting the hang of, though," he added, attempting another throw and failing. "I'll have to work on that."
After foiling the Joker's latest plan to kill the mayor, Batman was escorting the notorious villain back to the asylum he'd escaped from earlier. Suddenly, after long minutes of foreshadowing, taunting, and other hints of his impending escape, the Joker escaped, taking over the asylum and sending his thugs after Batman, who then began to learn a series of combat moves to deal with the threat.
"Just in time, too," growled Batman, hanging upside-down from one of Arkham's many interior stone gargoyles. "I was just dangling here, inverted, wondering how to take down these thugs below me, when I suddenly learned how to do an inverted takedown."
When facing a murderous escaped lunatic named Victor Zsasz, Batman found himself looking for a way to stealthily take down the criminal. It was at that moment he tried a glide kick, which involves sailing through the air with his cape extended and landing feet-first on his target, for the first time in his career.
"Another useful move," Batman said. "Glad I suddenly learned that. Makes wearing a cape for all these years totally worth it."
As he continued taking down enemies, he felt himself becoming more experienced in fighting, and hoped that experience would lead him to further breakthroughs in the art of combat. Spotting a criminal approaching the corner he was concealed behind, Batman waited patiently.
"I just hope I learn some way to take down an enemy from around a corner," he growled quietly.
"It sure would come in handy right about now."