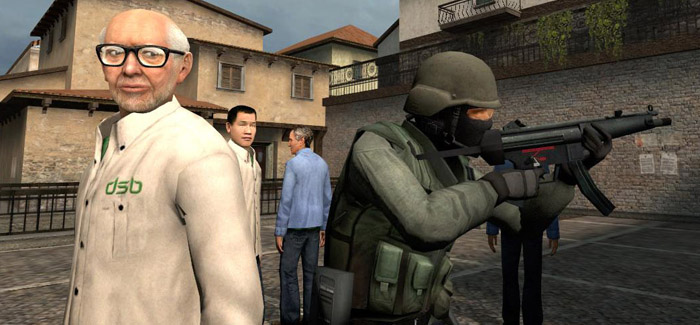 Montescaglioso, Italy — After a daring daylight raid on a small town in the Matera Province of Italy, four employees of DSB Computer Solutions expressed joy and relief for having been freed from the clutches of their terrorist captors, as well as admitting a great deal of discomfort about the nature of one of their rescuers, an outspoken racist.
"I mean, he was amazing," said one hostage after the ordeal. "He took out two terrorists right in front of me like they were nothing. His skill, his reflexes, his bravery under fire… it was as breathtaking as his intense hatred for black people."
"He threw one grenade but dropped, like, twenty N-Bombs," he added.
According to the four rescued hostages, they were abducted from their place of work moments earlier and were held in small rooms in the Italian town, two upstairs, two downstairs. Frozen with fear, they awaited rescue from their eight terrorist captors who never issued demands or requests for payment. Counter-terrorists moved in with an aggressive plan to free the hostages using deadly force, hoping to complete their mission in under five minutes. Gunfire erupted almost immediately, racial slurs shortly after.
"We heard a lot of shooting," another hostage said. "Automatic weapons fire from all over the town. And a lot of yelling. Curses, offensive slurs against minorities, invitations to copulate with one's own mother. All the shooting was scary, sure, but the language was just revolting."
"I don't want to single him out, seeing as how he saved my life. But while the other counter-terrorists were saying things like "Go go go!" and "Enemy spotted!", this guy was just N-this and N-that, and saying 'fag' every third word. Just spewing hate-speech, start-to-finish."
Seven of the eight counter-terrorists were eventually killed, leaving just a single soldier to deal with the remaining four terrorists. That soldier, known only as "GoblinCock69," quickly and efficiently took out three of the terrorists before finding the terrified, somewhat uncomfortable hostages and leading them into the courtyard.
"Yeah, I was happy to see him," one hostage said. "Then I realized he was the one doing all the name-calling. I wanted to get out of there, and follow him to the rescue zone, but I have to admit, after hearing what he said about blacks and homosexuals, I was tempted to take my chances with the terrorists."
"The guy is no fan of the Jews, either," he added.
As the hostages were led to safety, the final terrorist was killed, shot twice in the head as GoblinCock69 profanely implied he was gay, developmentally disabled, and of Mexican ancestry, all in the same sentence.
"It's a weird situation, definitely," said another freed hostage. "I mean, I owe him my life. Absolutely. Yet, I'm really reluctant to thank him because he's clearly an ignorant, hate-filled jerk. He's a hero, but if I'm ever taken hostage again, which I admit is quite likely, I really hope he doesn't show up to rescue me."
When questioned about his profane language and hate-speech, GoblinCock69 issued a curt invitation to perform fellatio on him. Then he promptly left town.