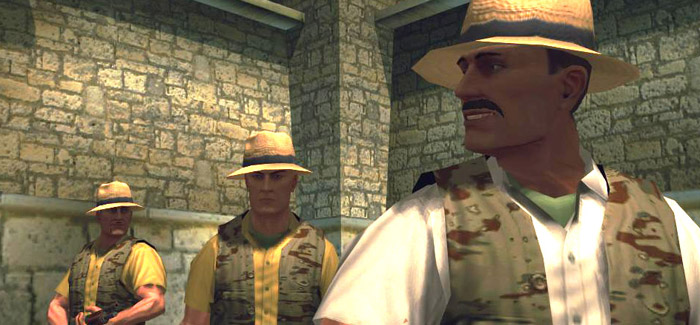 Delgado Vineyards, Chile — Three members of an all-Chilean bodyguard detail tasked with protecting Don Fernando Delgado and his son, Manuel, have reported seeing no sign of a deadly Caucasian assassin who may be attempting to infiltrate their ranks.
The guards patrolling a party at Don Delgado's vineyard remained vigilant and alert, on the off-chance a highly trained killer should attempt an assassination of the drug kingpin and his son. Scanning the party guests and holding their shotguns at the ready, they remained wary but reported seeing no signs of an interloper thus far.
Chilean-born bodyguard Carlos Javier Acevado, age 32, wiped sweat from his dark-skinned face as he considered the situation. "We're haven't seen anything suspicious yet," Acevado said in Spanish. "Well, except for a neatly folded black suit on the ground and a puddle of blood by the cliffs."
"Initially, that seemed suspicious," he continued, "but after a couple minutes I decided it was nothing to worry about. Anybody could have dropped a suit and some blood. It doesn't mean there's an assassin at the party."
"I found a briefcase with a sniper rifle in it near the front gate, "Guillermo Miguel Salazar, also a native of Chile, explained. "It seemed odd, but not terribly alarming. If anything really suspicious happens, though, we'll be ready."
A third member of the guard detail refused give his name or to offer a statement. Instead, the bald, pale-skinned Chilean with a bar-code tattooed across the back of his head scowled silently, slowly edging behind the other two guards, with one hand held conspicuously behind his back.
"We're well-trained," said Acevado. "I don't think we could be easily infiltrated. We've all known each other for years." He waved at Salazar and the glaring, white-skinned guard, who was now crouching silently behind them, his eyes darting around the courtyard.
"We know what all guards wear: camo vest, short-sleeved shirt, and hat. As long as someone is wearing those items of clothing, we know they're one of us. It's a simple, fool-proof identification system."
"Sorry, that's all I can tell you," Acevado continued. "I have to go. I think I heard a coin bouncing around somewhere over there, so I need to go stare at it for a few moments."
"A dropped coin could be the sign of something sinister," he added. "As a guard, you can't be too careful."