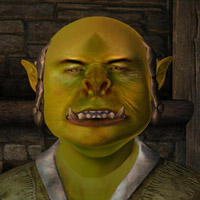 By Bogrum Gro-Galash, Innkeeper
As innkeeper of The Lonely Suitor Lodge in Bravil, in Southern Cyrodiil, I'm faced with a number of challenges. Keeping my lodge nice and tidy, my guests happy, and my rooms affordable is tough in this day and age while still managing to turn a profit. It definitely doesn't help that I keep buying used sets of armor from any hero who walks in the front door.
I don't know why I do it. I don't need three pairs of rough leather boots, or two sets of fur gauntlets, or seven chainmail cuirasses. I don't even go outside the lodge, let alone into the wild where I would need armor, but the moment a hero sprints in after a dungeon raid or a cavern crawl and dumps off some rusty iron greaves, there I am, handing over the hard-earned cash that I could have spent buying new mattresses for the guest rooms or improving my wine collection. I don't know what my problem is. I just don't know.
And it's not just armor, either. Swords, shields, arrows, clothing, repair hammers, wolf pelts… whatever he's got, I'll buy it without hesitation. I draw the line at stolen items, sure, but if it's a set of bloody fur gauntlets he's yanked off some dead Khajiit bandit or a flawed pearl he found in a Altmer Conjurer's cave, I'm more than happy to plunk down top dollar for them. I wish I knew why.
And don't get me started on the so-called "potions" he sells me. He'll buy me out of all my bread and vegetables, then stand there mashing them up with his mortar and pestle, right in front of me, and sell me back the resulting glop. Fifty-seven Restore Fatigue potions that taste like pumpkins and cheese? I don't need my fatigue restored that badly. My patience, sure, but not my fatigue. And yet, I buy them all.
I'll admit, sometimes he'll sell me something nice. I like Soul Gems: I just think they're pretty, even without souls in them. I'm halfway through reading the four volumes of The Argonian Account books he sold me, and I'm enjoying the story so far. The Dwarven helmet I purchased is certainly nice to look at: it's wonderfully crafted and ornate, but I'll honestly never wear it. I don't even know where it comes from. We don't have any Dwarves around here.
What is my problem? Am I too nice? Can't I say no? I've spent my entire life savings purchasing the stuff he brings in here, and I've had to use two of my spare rooms just to store it all. Any more of this, and I'll wind up living in the street, sharing a bedroll with Penniless Olvus. At least I know he won't try to sell me anything.