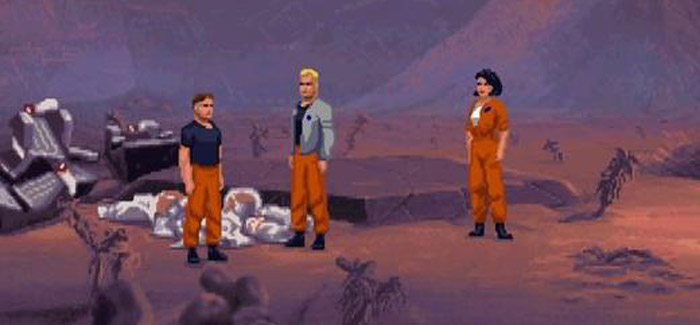 Planet Cocytus — Trapped on a mysterious planet and stumped for ideas, NASA Pilot and survival expert Commander Boston Low, trying to transport himself and his crew back to earth, has resorted to trying to use every item he's found with every other item he's found.
"I just don't know what else to do at this point," Commander Low stated, clearly frustrated. "I've been walking all over this planet, and for a while things seemed to be going pretty well, but now I'm just stuck."
His mission began when he was dispatched aboard the Space Shuttle to divert the path of an asteroid that was on a collision course with Earth. Successfully planting and detonating explosives on the asteroid's surface, the rock was safely diverted into low earth orbit. Low and his companions, upon investigating the hollow asteroid, found themselves transported to a strange planet with no way to return home.
After some exploration, Low realized he was simply not progressing with his mission any further, and, with no other ideas, he decided to try to combine the various items he's collected.
"I've got a wire, and a rod, and a shovel, and a bunch of other things," he said, tiredly looking through the collection of objects he'd found since arriving on the planet. "There's also a lens, a jawbone, a bracelet, and a couple different crystals. I don't know what I'm supposed to do with any of this junk."
"This sucks," he added. "I was really having fun there for a while."
After trying to use each item with different features of the environment, such as columns, devices, and code panels with no results, he finally decided to try combining the items with the other items in hopes of creating a brand new item that might be of some help.
"Well, I'm trying the shovel with the jawbone. That didn't work. Maybe the shovel with the bracelet? No, that doesn't work. Maybe the jawbone with the bracelet? Dammit. Nothing."
After trying all of his items with all of his other items, Low wandered off to a location he'd been in several times before. After examining the same area he'd previously examined, he discovered what appeared to be a machine part.
"Great," he said. "Another item. I guess I'll have to try this machine part with everything else I've got. That'll be fun."