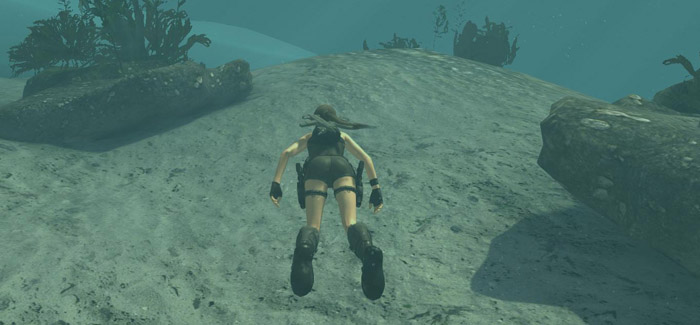 Thailand, Southeast Asia — Millionaire archeologist and adventurer Lara Croft has died in an apparent suicide by drowning, lawyers for her estate revealed today.
Croft's tragic death comes just as she was embarking on an expedition to locate Thor's hammer and gain entrance to the Norse underworld. An eyewitness says it appears she took her own life, deliberately submerging herself beneath the waves off the Thailand coast after repeatedly trying, and failing, to scale a sheer cliff wall.
"I watched her trying to climb this ridiculously steep cliff, clinging from tiny handholds and leaping across chasms," one bystander said. "She kept falling, though, all the way back down into the water where she started, and kept having to try again."
After numerous failed attempts, the eyewitness says Croft, frustrated, appeared to give up.
"After her last fall, she just swam down and floated beneath the surface of the water. She did not appear to be in physical distress, and her yacht was anchored not far away. She just deliberately floated down there until she ran out of air."
"I'm completely shocked by this, but in a way, I can totally see why she did it," the eyewitness continued. "I was getting frustrated and annoyed just watching her trying to scale those cliffs. I can only imagine how irritating it was for her."
Though the waters Croft perished in are known for large, dangerous sharks, it does not appear they contributed to her death.
"There were a few sharks present when she initially dove off her yacht, but she quickly swam after them and shot them to death," the eyewitness said.
"They're endangered, you know," he added. "The sharks. Like a lot of the animals she pumps bullets into. I'm just saying."
"I've been there, too, in that frame of mind," said Link, an adventurer in Hyrule, upon hearing of Croft's suicide. "I've been so exasperated that I've wanted to drown myself. That water temple? Talk about frustrating. So many times I just wanted to take off my Zora Tunic and put on my iron boots and let the water fill my lungs and be done with it."
"When you get overwhelmed, and you think about drowning yourself, you just have to find a healthy outlet for your anger," he continued. "I usually take out my frustrations by swinging my sword at my annoying fairy guide. That does the trick."
"I just wish Lara had called me," Link said. "Maybe I could have talked her out of it."