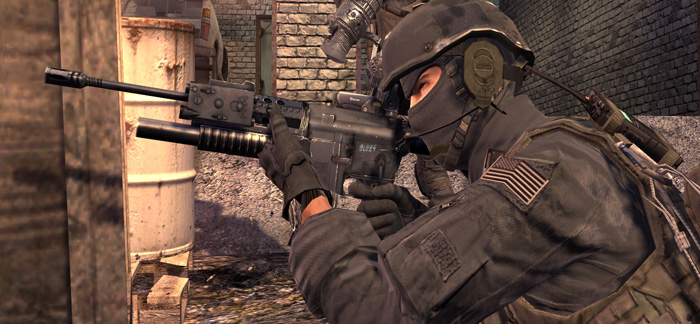 Dushanbe, Tajikistan — A highly trained U.S. military commando reported injuring himself this morning while on a dangerous covert mission that has become a race against time itself. The incident occurred when the commando inadvertently fired a missile that exploded in his vicinity, badly wounding him.
"It was an accident," the commando explained. "I thought I was holding my binoculars but it turned out I was holding my missile launcher."
Covered in blood and riddled with shrapnel, the covert agent, who had become separated from his squad late last night when their transport plane was shot down, described the incident.
"Well, I wanted to take out my binoculars to have a look at the enemy base over there. So, I was cycling through all my weapons, really quickly," the lone-wolf military veteran explained. "You know, taking out my pistol, putting it away, taking out my shotgun, putting it away, taking out my [sub-machine gun], putting it away. I thought I'd gotten all the way to my binoculars, but I guess I stopped on my rocket launcher, which I always take out just prior to taking out my binoculars."
Believing he was holding his high-tech. lightweight binoculars and not his 38 pound FGM-148 Javelin guided missile launcher, he quickly depressed what he thought was the button that would activate the 18x magnification zoom feature of his digital spyglass.
Instead of getting a close-up look at the distant enemy military base, however, he was surprised to find he had in fact fired a missile. The missile immediately collided with the waist-high stone wall he'd been taking cover behind, and exploded. The explosion severely injured the black-ops commando, who had been appointed to his mission by none other than the President of the United States himself in a desperate, zero-hour gambit to prevent a nuclear holocaust. Shrapnel tore through the commando's body-armor and flesh, nearly killing him.
"It's not a huge deal," the gruff operative said. " If I just wait five, maybe ten seconds, I'll fully recover from my injuries. My breathing will return to normal, those blood-spatters on my eyeballs will fade, my heartbeat will stop throbbing in my ears. It just sucks because that was my last rocket and I'm pretty sure there's a helicopter that comes out when I get near that base."
He paused, already looking healthier. "Sometimes I do something similar when I'm in a rush. Like, I'll mean to open an ammo crate but instead I'll turn on my flashlight. Last night, I had stolen this jeep and was driving at top speed through a village. I meant to pull out my map to see where I was, but instead I accidentally jumped out of the jeep. Dove right into the street, at about seventy miles an hour. Man, that hurt."
He laughed, seeming to possess fond memories of the incident that had resulted in two bystanders being killed by the out-of-control jeep. "I had to go all the way back to the middle of the village to attempt my daring, high-speed escape again, too," he said, shaking his head.
"Mainly, I just feel a little stupid about mistaking the zoom function on my binoculars for the launch trigger on my enormous shoulder-mounted laser-guided anti-tank weapon. "
"But hey," the lone hope for the free world added. "It happens to the best of us."