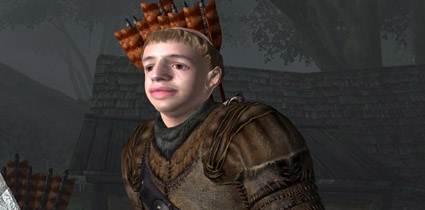 When last we left Nondrick, roughly eighteen years ago, he was faced with a moral dilemma. Stealing a Shepard's Pie from someone's home to cure his wolf-born infections (Witbane and Helljoint) was weighing heavily on his soft mind — was it the wrong thing to do? Was it in keeping with his NPC nature? With his back against the wall, would Nondrick fill his pockets with stolen goods?
In a moment of desperation I'd mixed up the ill-gotten curative and stood there, bottle to my lips, debating, worrying, and trying to remember the Alchemist's Code. What I eventually remembered was that I'd never actually invented an Alchemists Code. So, I invented one.
What I can find is mine. What I can't find, I can buy. But stealing is kind of a dick move.

Okay, it's not the most eloquent code ever written. But stealing, along with fighting, adventuring, romance, and writing eloquent codes, just isn't Nondrick's thing . I decided, eventually, to leave the potion in the house I'd broken into, along with a trinket or two to make up for ruining someone's dinner. With that, I trudged out into the night on aching, infected joints, to find where I'd parked my horse a year ago and to continue searching for a cure that wouldn't involve stealing a baked lamb entree from a stranger's dinner table.
Of course, this being Oblivion, when the game closes a door it opens a window. Unfortunately, opening a window in Oblivion is a dangerous prospect, because sometimes an enraged pigs rushes through it and tries to kill you. Today, as I travel north atop my faithful horse, Beaker, boars finally make their appearance in the game.
Boars are actually pretty tough: they're fast, durable, and challenging for any character who hasn't leveled up properly, and Nondrick's improved speechcraft and mercantile skills, which certainly help with his career, haven't left him particularly capable of dealing with boars easily.
Killing a boar requires a lot of blocking, back-pedaling, and just plain running away, while making the occasional swipe with a sword or blast with a fireball. The first boar I encounter drops me quickly to about one-quarter health before I've even done him much damage. I heal quickly with my Mara's Gift spell, then find myself battered down to half-health again before I finally send the little piggy to market.
While I'm carving up the boar, a Timber Wolf leaps snarling out of the woods. I blast the animal with my frost spell and hack him down to size, hoping he doesn't infect me with yet another disease. My health is now worryingly low, and I don't have much in the way of curatives. I use my Heal Major Wounds spell, but since I've never built up my magic abilities, I can only use it once or twice before running out of gas.
As soon as I'm back on Beaker, I spot a fellow traveler heading my way. He sees me as well, and thrusts a fist skyward. I'm hoping he's waving hello, but no, he's casting a spell: a scamp spawns beside him and attacks me. Ignoring the conjured beast, I chase the spellcaster around, trying to smack him with my sword. Cripes, can't these stupid animals and evil wizards just fight amongst themselves and leave me out of it?
A retarded little parade ensues. The conjurer can run backwards as fast as I can run forward, so it's a futile chase for a while as I follow him around. Meanwhile, his scamp is chasing me, so the three of us make circles all over the road and through the grass, nobody gaining on anyone. Finally, the warlock runs back-first into a boulder. Pinning him against the rock, I hack away at him while his scamp repeatedly sets me on fire.
Eventually, he folds and his scamp vanishes.
Back on Beaker, I proceed slowly up the trail, gathering ingredients from horseback (somehow). With the city of Bravil in my sights, I spot a plant with large leaves by the base of a tree. My keen eye for plant life tells me this is Mandrake. Wait a second. Wait a second!
I slide off Beaker and yank the Mandrake roots out of the ground. I check the properties in my well-thumbed copy of Mushing Up Plants For Fun And Profit.
There it is. The Cure Disease property! I mix the Mandrake Root with the remaining sample of Elf Cup Cap that has been gently decomposing in my pocket for days. Bam! One Cure Disease potion. I chug-a-lug and check the active effects — all traces of the disease are gone. Hurray! I have rid myself of wolf-cooties!

Wow. I'd sunk pretty low there for a while, but finally managed to complete my personal quest, ridding my body of unwanted canine pathogens. Nondrick was once again complete, and could walk triumphantly into Bravil. Or, if not "triumphantly," then at least proudly. Well, "proudly" may be overstating it. How about, "not crawling with diseased ticks."
Yeah, that'll do.